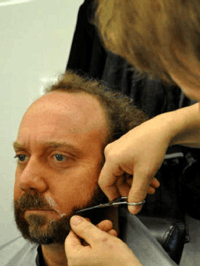 As we have noted a number of times, the makeup branch is one of the Academy's most independently minded. While many people have criticized them in the past for bestowing the moniker "Oscar nominee" on many mediocre (or worse) films, the makeup artists clearly seem to take the work into account regardless of perceived film "quality."
This year, they proved their originality once again by nominating three films which did not manage nominations in any other category. The graceful and realistic aging in "Barney's Version," the ultra-realistic results of a battle with nature in "The Way Back" and the transformation of Benicio Del Toro and Anthony Hopkins (not to mention a plethora of blood) in "The Wolfman" made up the slate.
I recently spoke with makeup department heads from all three of the nominated films – "Barney's Version"'s Adrien Morot, "The Way Back"'s Edouard Henriques (nominated with Greg Funk and Yolanda Touessing), and "The Wolfman"'s Rick Baker (nominated with Dave Elsey).
For Baker, a 12-time nominee and six-time winner, the journey on "The Wolfman" began very early. "I did something I don't normally do," he says. "When I heard Universal was going to do a remake of 'The Wolfman,' I kind of begged. I said, 'I really have to do this movie.' It didn't make for the best negotiating position but I was one of the first hired on the film."  The chance to update his own take on the genre 30 years earlier in "An American Werewolf in London" was clearly too difficult to pass up.
Henriques, on the other hand, came aboard fairly late in the process.  "We didn't actually say, 'Okay, we're doing it' until after Christmas 2008," he says, also referring to co-nominee Yolanda Touessing.  "We met a couple of actors in L.A. and went off to Bulgaria two weeks later for filming."
Morot, a Montreal-based makeup artist, also came on board a month and a half before the shoot. "I looked at some pictures on Google with the producers and the director and I said, 'I think this is what Paul should look like,'" he says. After he was approached with an offer, he jumped at the opportunity and didn't look back.
One thing that is apparent about all three of these titles is, obviously, the reliance on makeup. Baker, however, said he did not approach his job any differently. "I approach every film the same," he says. "I love what I do and I just try to do the best I could possibly do, even if the makeup isn't the most important part of the movie. Makeup in many ways isn't the most important part of the movie, even on a film like 'The Wolfman,' where it is very prominent."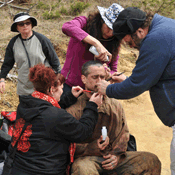 Henriques admits he was excited when he became aware of the possibilities to display his work on Peter Weir's film.
"It's a makeup artist's dream," he admits. "So many times makeup is not that important to the story so you forget about a beard line, no matter how much work you put into it. In this case, I immediately had to do a lot of research, from Russian gulags to tattoos to the look of the period. I did breakdowns of what had to be accomplished all the way through the movie. I would ask, 'Do we need a bald cap or cut hair off?' I had to go through all those possible techniques. Some actors were able to have their heads shaved – but for other actors we had to use bald caps because Peter wanted to use their hair later on. Appliances became very much like a road map. We had to just push the envelope every day."
Morot also notes that he knew his work would be extremely critical, but also could not overwhelm the film. "The makeup had to be subtle but prominent," he says.  "It is very, very complicated to do that. As a makeup artist, you know your place in the grand scheme of things and you don't want to distract from the performances."
The last time Henriques was nominated (with Touessing), it was for a Peter Weir film – "Master and Commander: The Far Side of the World" (he was also nominated in 2000 for "The Cell.") "He's very demanding," he says of his Weir. "He asks you to do a lot of research but is willing to listen to all your ideas. You're becoming one of his confidantes and he's going to use your craft, your art and you see it in the movie. For instance, he will feature something like a special tattoo in the movie – you always know he will use your art as part of his picture."
But for a makeup artist, working with the individual actors is just as important as working with the director. "Certain actors won't let you do certain things, and rightly so," Baker says. "It is their career and their life and their performance. But I think I can relate because I know what's it's like to wear makeup because I've worn makeup. I played King Kong in the Dino De Laurentiis film. I did a test run on myself of 'The Wolfman' seven months before we started shooting. I think that should be mandatory because I find it surprising how many people do the stuff I do and have never worn makeup themselves."
Says Henriques, "Every actor is different. Meeting right at the beginning with the actors and the directors is one of the most important things we do. Each actor had a makeup meeting.  But then again, there is the day-by-day process of getting to know somebody – it becomes a team effort."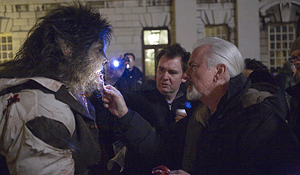 Morot explains that on "Barney's Version," actor Paul Giamatti was part of the creation of his aging appliances. "I love to work with actors involved in the creation of the makeup," he says. "I want them to be comfortable in the makeup they are wearing as it will affect how they perform. Some actors will let you do whatever you want. I went to meet Paul in New York and he was totally on board with whatever I wanted to do. Over the course of the movie, we got along very, very well. We're from the same generation so we had a lot to bond over."
On "The Wolfman," Baker found an actor he could truly relate to in Del Toro. "Benicio said, 'More is more,'" he recalls. "He was up for everything we wanted to do to him. We wanted to make his tongue black and he would swig black food coloring in his mouth, swish it around before every take. Few actors would do that but he was way into it."
For Henriques, the biggest challenge on "The Way Back" was that of "keeping it totally believable and constantly striving for that realism and believability," he says. "Peter said recently that the landscapes and the faces were the movie. That makes makeup indispensable.  It has to be totally believable or else you blow the whole image. A lot of people don't think of the actors being out in the desert and then finishing the day off before getting them back up at 4am to do a two-hour makeup prep."
Morot says he had to be careful in aging the actors without going over-the-top. "You look at people in their 60s these days and I don't find those people are as old as when I was young," he says.  "People at that age are still looking very youthful and they're not crippled old people.  Also, the transition had to be very subtle. There were six difference stages for Paul but it went on so smoothly. But the way Richard [J. Lewis, the director] edited one of the scenes, you could see the transition. After Minnie Driver does the funny blow job, the editing switched and suddenly he's an old guy and also 30 pounds heavier. For the rest of the movie, you forget that, and you should, but I gave myself a pat on the back there."
For Baker, he found his biggest challenge was mixing his desire to pay homage to a film he loved while appealing to a modern audience. "I wanted to make a wolfman that was an old school wolfman," he says. "Benicio wanted old school makeup as well but I said it needs to be updated enough so that people will accept it. Getting everybody on the same page was the same challenge. Before Joe [Johnston, the director] came aboard, I had to have a design..  And I went with my first design."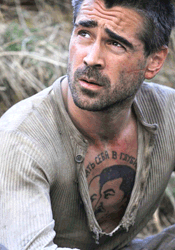 Morot says the last few weeks have been somewhat overwhelming, having worked in Canada for so long and having not been through the American awards circuit before. "Right now, I haven't had a chance to really sit back and enjoy it," he says. "I basically have had non-stop interview requests. I'm surprised at how intensive it can be."
For Henriques, he likes his lack of fame most of the time. "I really am a behind-the-camera guy," he says. "I'm really uncomfortable speaking in front of people. I take the actor's input and the director's input and the people that need to know me, know me. Recognition is nice, though."
Baker, however, has achieved the rare feat of being extremely well known in the industry – and fairly well known in the public – for his work. "It always amazes me when someone knows who I am," he says. "I wasn't born into the film industry. When I was 10 years old, I made the decision I want to become a makeup artist and when I was 15, I went to the makeup union with a box full of stuff. They told me to give up, that I was never going to get in. I think my work is what it is because in my mind, I'm still this kid who does what I do as a hobby. A lot of people in my position hire people who do the work for them.  They don't stay in the workshop all night sculpting and end up on sets."
Now that the Best Visual Effects and Best Sound Editing categories have done away with a three-nominee scheme (the latter even doing away with the bake-off system), Best Makeup remains the only category to allow for such a small amount of nominees (though Best Original Song can sometimes end up with as much or less, depending on the level of quality in a given year, as decided upon by the music branch).  Henriques says he finds that it's nevertheless a legitimate way to narrow things down.
"I feel that the nomination, coming from other makeup artists and hair stylists, that's the prize," he says.  "When the Academy is out there voting for you [at large], it's not the same prize.  You know those three films are probably very deserving films and no matter who wins, you've got three really great makeup movies.  If you have more than that, you're more likely to have a dark horse win if the whole Academy votes for the same film. It's raising the makeup bar by only having three."
Says Baker, "There are years where there are three nominees and there shouldn't be three nominees and other years where there are three nominees and there should be 12 nominees. This is a problem with awards in general."
Morot comments on the process that was involved in the build-up to the nominations. "I've won some awards in Canada," he says, "but in Hollywood, it's more complicated and involving. First, the movie has to be submitted, and then you submit a portfolio and write some essays. Then you have to make a presentation in front of the makeup branch of the Academy. All the big names of the makeup world were there. You basically talk about the movie, present a clip and they are the people who make the selections for the shortlist of seven movies, and from there they go to three. It's surprising that it made it.  It is the most important thing because my peers actually voted for it. Now it's up to the 6,000 members [of the Academy membership]."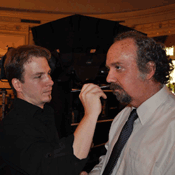 It is quite possible that this process results in films that otherwise are ignored by the Academy finding a home here. Baker also is unapologetic that the films cited in this category are sole nominees for their film. "They're not looking at what the best film is, they're looking at what the best makeup is," he says.  "There's no doubt about it that 'Norbit' was a shitty film and it was a joke at the Oscars but it had some good makeup and people were looking at what they're supposed to look at."
Looking back on the experience, Morot finds he has is unsure what he will take with him into the future.  "This nomination may have some repercussions in future jobs but it's impossible to tell," he says.  Meanwhile, Henriques says he will look back on a tough shoot in a fond manner.  "I'll just continue to be vigilant and try to be an artist and learn every day I do it," he says.  "I cannot forget that's my job – and I love it."
Baker, however, when thinking of his film, looks back to why he first became a makeup artist in the first place: the sheer joy of making movies. "I remember we went down to the location where the gypsy camp was and fog machines are going," he says.  "Dave Elsey and I pulled up in a van with a wolfman. We looked at each other and it was like, 'F*** yeah! We are so excited.  We're making a monster movie!"
The race between these three films remains quite up in the air, depending on what will and won't sway the Academy at large.  But at the end of the day, even if other nominations would have no doubt been nice, each of these nominees will wear it as a badge of honor that their work will solely represent their films on Oscar night, the industry's biggest night of the year.
[Photos: Toronto Star, Makeup Artist Magazine, LA Times, Newmarket Films/Wrekin Hill Entertainment, Below the Line]