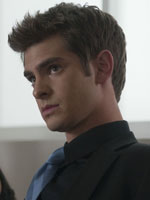 By having separate categories for British films and individuals — though Brits compete in the general awards too — the London Film Critics' Circle Awards generally get to have their cake and eat it. So it was this year: "The King's Speech" received obligatory recognition in the categories for Best British Film and Best British Director, but lost the night's big prizes to "The Social Network."
Some will find it ironic that it took a group of limeys to put some wind back in Team Fincher's sails, but it's not that surprising: British or not, this is still a critics' award, and "The Social Network" wove as a powerful a spell over journos across the pond as in the States. The film took a leading four prizes, including screenwriting honors for Aaron Sorkin and Best British Supporting Actor for Andrew Garfield — the Oscar snubbee's second home victory of the week.
No surprise that Colin Firth took Best Actor, while they spread the love by giving Christian Bale the Best British Actor award — I do wonder if that happened entirely organically. Less expected was Annette Bening's Best Actress victory, breaking Natalie Portman's recent sweep; I suspect the somewhat mixed critical reaction to "Black Swan" in the UK might account for this, but Bening does seem to be picking up steam lately.
It'll be interesting to see what BAFTA decides: I suspect her film's substantial 12-nomination haul (including a Best Film nod, which "The Kids Are All Right" does not have) gives Portman the edge, but if the roundly well-liked Bening picks up another gong there, we have a real fight on our hands. (More in my BAFTA preview tomorrow.)
Back on the local side of things, it's nice to see recognition for two ladies left out of the Oscar race: Lesley Manville deservedly picked up Best British Actress (beating Helena Bonham-Carter to the punch), while Olivia Williams now has another supporting prize to keep her National Society of Film Critics' Award happy.
Gareth Edwards, meanwhile, took Best British Breakthrough honors for "Monsters" — I suspect the shoestring sci-fi pic's trophy cabinet is now fuller than he ever imagined it would be. Finally, following its big win at Monday's Evening Standard Awards, excellent Scottish youth drama "Neds" received another pat on the back with a Young Performer award for remarkable first-time actor Conor McCarron.
What do these results mean for the awards race? Nothing: yet another critics' award mostly following the lead of the American critics' awards, and we know how much influence they've had on the industry this season. But it's a handsome set of winners nonetheless, and at least the UK critics can't be accused of parochialism. Full list of results (pending a couple of categories) at The Circuit.
[Photo: Columbia Pictures]