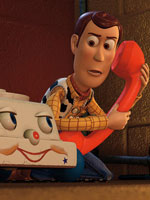 As Kris noted in our Oscar Guide for Best Animated Feature (and whatever the Annie Awards would have you believe), the category doesn't promise much of a race this year — as has been the case for the last three years running, Pixar faces an obstacle-free path to the award, despite quality competition. And with two-thirds of your votes in our "should win" poll, most of you are okay with that.
But the thrill of winning the ghetto category year after year has to get old, and as their rather aggressive campaign for "Toy Story 3" has made clear, Pixar has designs on more substantial recognition. They certainly aren't afraid to say so in this New York Times profile of the studio by Melana Ryzik:
The Pixar team would dearly love to win a best picture Oscar. "I would be overwhelmed with emotion, I think, that our peers recognized how we make our films, and that we use the same tools and that we take ourselves so seriously," said Darla K. Anderson, a producer of "Toy Story 3" who has been with Pixar for 18 years. Their painstaking approach "has been with this ferocity of intensity," she added, "to make a great movie, plain and simple — not a great animated film, but a great film."
Of course, that goal doesn't look terribly likely to be realized this year. Moreover, I would venture that as long as the separate Best Animated Feature category remains in existence, it's not going to happen; too many voters deem that second-class award sufficient recognition for an animated contender. It would be interesting to see what would happen if the category was scrapped, but the 10-nominee Best Picture field remained, enabling further animated nominees — would fans of the films feel more compelled to give them their vote in the top race without the option of a consolation prize?
In the year of its 10th anniversary, the Best Animated Feature award is an increasingly problematic one. Its presentation is usually one of the ceremony's duller spots: despite a high standard of nominees, only two of the nine winners since 2001 have been anything but a foregone conclusion. In a sense, the Best Picture nominations scored by "Up" and "Toy Story 3" seemed the bigger prize.
On the other hand, the category has given the Academy a chance to spotlight remarkable international works that wouldn't have a prayer in other Oscar categories, such as "Spirited Away" and this year's "The Illusionist." As strong as the argument is for dropping the category, it'd be a shame to deny such films the exposure even a nomination brings.
For now, though, it's Pixar's show — and while some of us may be less than excited about a fourth consecutive win for the studio, and sixth overall, there's no denying the magnitude of that feat, or the consistently high artistic standards that have made it possible. Indeed, their success in the last 15 years can surely take a large chunk of the credit for the critical and commercial credibility animation enjoys today. In a medium still misunderstood by many — as "Toy Story 3" director Lee Unkrich says in the NYT piece, "They think maybe we push a button on a computer, and a movie pops out" — that's no negligible achievement.
[Image: Pixar]