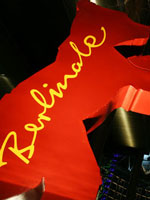 In a couple of hours, I'm jumping on a crack-of-dawn flight to one of the coolest cities on earth for a week at the Berlin International Film Festival — or, to use the name that rolls more luxuriously off the tongue, the Berlinale.
I probably should have mentioned this earlier and posted some sort of festival preview. The truth, however, is that I've been so preoccupied with other business that I've barely read through the festival programme myself — the date rather snuck up on me. I've never done so little homework ahead of a festival — yet after my first Berlinale experience last year, that doesn't feel like a bad approach.
Berlin prides itself as being a festival of discovery, with more of an emphasis on rising talent than the lofty auteur names that tend to favor the sunnier festival climes of Cannes and Venice. True to form, my favorite finds of last year's festival were ones I knew little about in advance (like Arvin Chen's "Au Revoir, Taipei," which wound up in my 2010 Top 10) or ones I wasn't aware would show up until the last minute (like "The Illusionist," buried so deep in last year's programme many critics missed it altogether).
So my plan, such as it is, is essentially to pitch up, grab a press pass and follow my nose. That's not to say I have nothing bookmarked: a new film from Béla Tarr is an obvious source of intrigue, while I'm hoping that "Pina," Wim Wenders' 3D non-narrative tribute to choreographer Pina Bausch, will be a return to form (or perhaps a new form altogether) for the director. Speaking of German auteurs working in 3D, Werner Herzog is bringing his well-buzzed doc "Cave of Forgotten Dreams" to the party too.
"The Forgiveness of Blood," Joshua Marston's rather tardy, Albanian-set follow-up to his excellent 2004 debut "Maria Full of Grace," is high on my must-see list, while Ralph Fiennes's first directorial effort, the all-star Shakespeare update "Coriolanus," looks like it could hit or miss in rather interesting ways. Of all the titles I have some prior knowledge of, I'm most looking forward to is Miranda July's "The Future," which debuted at Sundance last month; not a Sundance baby, but sounding like it should have been one, is American writer-director Victoria Mahoney's "Yelling to the Sky," which gives one Gabourey Sidibe her second big-screen showcase.
I should add that these are all in the Competition strand, which is rarely the Berlinale's most interesting section. (The Competition kicked off this evening with the European premiere of "True Grit," a nice feather in the film's cap, but not an event for the rest of us.) Other, smaller titles of interest are peppered throughout the vast programme, not all of them new: a retrospective of several rarely-screened Ingmar Bergman titles is perhaps the fest's biggest drawcard for serious cinephiles.
Whatever I find, I'll fill you in with daily festival reports as I muddle my way through it, braving the cold and finding out how snow, crutches (in a neat bit of timing, I injured my foot earlier this week) and frantic scrabbling between screening venues mix. In short, if you ask me what I'm most excited about at the Berlinale, the plain answer is: I don't know yet.