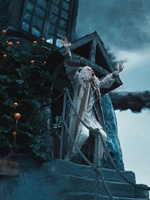 The art directors settled on a wonderful quintet to represent their form in 2010. Each of these films (okay, I haven't seen one of them) manages to showcase art direction in organic ways, even when it comes to the contender with the most robust and vibrant design to offer.
When it comes to the design categories, though, abundance can be an asset. There's no question about it. The old joke is "Most Art Direction" or "Most Costume Design," rather than "Best." And unfortunately, that extends sometimes into the nominations process as nuanced, subtle work is disregarded each and every year. But even with that caveat, this is a handsome slate.
The nominees are:
"Alice in Wonderland" (Robert Stromberg; Karen O'Hara)
"Harry Potter and the Deathly Hallows: Part 1" (Stuart Craig; Stephanie McMillan)
"Inception" (Guy Hendrix Dyas; Larry Dias, Doug Mowat)
"The King's Speech" (Eve Stewart; Judy Farr)
"True Grit" (Jess Gonchor; Nancy Haigh)
One of the most egregious omissions, as you'll note at the bottom of this piece, was Dante Ferretti's expertly rendered work on "Shutter Island." Alas, it's one of countless areas where the films as shafted this year, so there's nothing to gain by complaining.
A couple of years ago, Tim Burton's "Sweeney Todd: The Demon Barber of Fleet Street" managed to edge out Best Picture nominee "There Will Be Blood" for the win here. It's possible a similar trick is pulled this year, as "Alice in Wonderland" is definitely a spoiler possibility in this race. Here is a film defined by its design elements, like most of Burton's filmography. Last year's winner in the category, Robert Stromberg, could easily lap up his second statue (along with set decorator Karen O'Hara) should the Academy fall back into that old "Most Art Direction" routine noted above.  I don't mean as a slight in this instance, though. The production design on this film may have been gaudy for some, but its imagination knew no bounds.
The only film nominated for an Oscar that I didn't see this year was "Harry Potter and the Deathly Hallows: Part 1." I'd rather re-watch the others, which have melted into one film in my brain, before taking in the big finale with this and next year's double-dip. So I'll be upfront and note that the extent of my knowledge of the art direction in this film stems from trailers, TV spots and production stills. Nevertheless, Stuart Craig and Stephanie McMillan are the surprise representatives of their film in the Oscar line-up this year, and it's a franchise I suspect will get a more significant campaign push next year. So bravo to them for their third nominations on the series to date, but the road surely ends there.
I go back and forth on a personal pick here this year, but most of the time I fall back on the undeniable practical application of art direction blended with special effects work in "Inception." Production designer Guy Hendrix Dyas and set decorators Larry Dias and Doug Mowat manifested Nolan's eye-popping dreamworld to staggering effect and even when they weren't showboating in the set pieces, they were carving out a specific place and a definitive design identity for the film that sometimes goes under-appreciated. For those reasons, I'd definitely call this a dark horse possibility, but it's difficult to compete with extravagance in these fields. And this year, the extravagance isn't really as arbitrary as it has been in years past. But fingers crossed, nevertheless.
My pick for the win here is actually a sterling example of balanced but thematically relevant art direction. In "The King's Speech," director Tom Hooper was very interested in his actors' relationship to their space. Part of that was carried across in the way he chose to shoot the film, but quite a lot of thought obviously went into the design elements of the film, as well, particularly the production design. Veterans Eve Stewart and Judy Farr won the Art Directors Guild award in the period category this year, which can sometimes be an indicator here, but that's not always the case so don't be looking too hard at precursors here. Nevertheless, if you're betting on a quasi-sweep for the film, as I have been doing since mid-January, it wouldn't be a bad idea to place some chips here.
Another period piece could be in the mix, too, making this a rather competitive category when you get right down to it. Jess Gonchor and his set decorator Nancy Haigh did a marvelous job of creating the world of "True Grit," landing the film one of 10 nominations. Sometimes I notice the proper appreciation isn't paid to the art direction of the film, largely because there are so many exterior scenes. But the fact remains this crew built considerably onto an existing town and the minutiae of Haigh's set decoration is apparent in every nook and cranny. Depending on how deep and broad the support for the film may be (which is still up for debate, regardless of the total nominations), this could be an interesting surprise on Oscar night. I consider it the fourth in line, but it all feels like it could be very fluid.
Will win: "The King's Speech"
Could win: "Alice in Wonderland"
Should win: "Inception"
Should have been here: "Shutter Island"
Check out my current rankings for this race at its dedicated Contenders page here.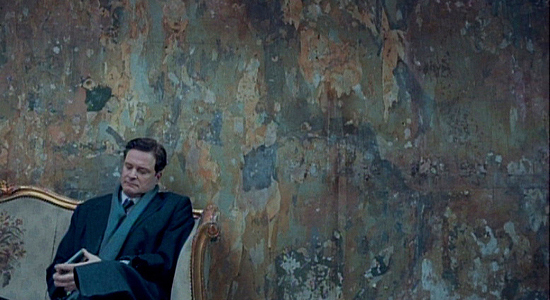 What do you think deserves to win the award for Best Art Direction? Have your say in today's sidebar poll!
[Photos: Warner Bros. Pictures, The Weinstein Company]