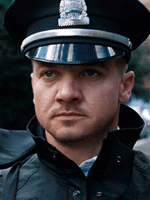 Very few of the 20 actors nominated for Oscars this year (if any) feel like egregious calls. As usual, the lead actor race is the most impressive, but the Best Supporting Actor slate isn't too shabby, either. Each performance is masterful in its own way, and each serves its respective narrative to the fullest.
Two of the nominees this year are depictions of real life individuals and three are complete manifestations. But all five of the below actors owned their roles and then some, finding the right flow of eye-catching showmanship without dominating the narrative arc. And though some might argue, I'd say each is perfectly representative of "supporting" in the truest sense of the word.
The nominees are:
Christian Bale, "The Fighter"
John Hawkes, "Winter's Bone"
Jeremy Renner, "The Town"
Mark Ruffalo, "The Kids Are All Right"
Geoffrey Rush, "The King's Speech"
Four of this year's supporting actors were from Best Picture nominees, not that that necessarily means anything. Though I do feel like the odd man out in that scheme is pulling up the rear here. Regardless, like I said, great slate.
There are those who seem to think the frontrunner in this field is ripe for an upset from a contender featured in the Best Picture frontrunner…but come on. Is there anything less debatable this year than the finely tuned and focused performance Christian Bale gave in "The Fighter?" Honest question. He did a great job of taking most of the precursor awards, which mean little until it comes around to the SAG vote (which he also won). He's in the middle of headlining one of the biggest Hollywood franchises to date and continues to show the kind of versatility that lands him high praise for work like this. As Dicky Ecklund, he owned the screen, acting every colleague right off of it. He created a vibrant character that will most certainly endure, perhaps more than any other this year. It's his to lose.
The awards circuit really began for John Hawkes this year with that unexpected SAG award nomination. Sure, he had some critical notices earlier in the season, but that tip of the hat from his fellow actors was the first sign of industry approval for "Winter's Bone." And it lasted him all the way up to an Oscar nomination that, despite my misgivings of the film, I couldn't possibly begrudge him. Hawkes is a talented character actor who has been working for years, in many ways the template of a supporting actor nomination (that will certainly lead him to even greener pastures). He'll do best to sit back in the Kodak, relax and just watch it all unfold rather than get worked up about potentially winning. But he created a dynamic, magnetic character in the film, one of its saving graces.
At the end of the day there just wasn't enough focused passion behind "The Town" to get it across the finish line with nominations for Best Picture or Best Adapted Screenplay. One contender did hold on, though, and that was Jeremy Renner, whose unsettling portrayal of a firecracker persona channeled James Cagney and brought him his second Oscar nomination in as many years. Not too shabby at all. He's doing well by finding a perfect rhythm in the business, getting groomed to take over the "Mission: Impossible" franchise, heading for a fat pay day in that and the upcoming cross-over flick "The Avengers." Plus, if you talk to him, you can tell he's having fun with it all. He'll win one day, I think. But this year he's probably just lucky to have survived this long, given the ultimate Oscar fate of his film.
The most engaging and spirited element of Lisa Cholodenko's "The Kids Are All Right," for me, was the return of Mark Ruffalo. Okay, he hadn't really gone anywhere, but in this viewer's opinion, he hasn't crafted a character this authentic and organic in a decade, going all the way back to his coming out party in "You Can Count on Me." The performance reminded of the charisma he effortlessly displays and deeper elements of emotion and frailty he can tap into if need be (even when oppressed by narrative choices that make the uphill climb as steep as humanly possible). It's a fine piece of work to put him back on the prestige map, and it'll be interesting to see what path catches his eye now. He's very much at a point in his career when the next big step is imminent.
Finally, the spoiler possibility — if there's going to be one — is Geoffrey Rush. In Academy-favorite "The King's Speech," Rush reminds (as he consistently does) why he ought to be considered a treasured modern actor. Sparks fly on screen between Rush and his co-star, Colin Firth. It's a delight to watch the two talented sparring thespians at work, and sometimes, even if you already have an Oscar on your mantle (as Rush does), that can be enough to pull out a surprise. And much like, say, Juliette Binoche in 1996, this would make perfect sense as yet another place for the Academy to reward the film. But Rush never quite turned the corner this season, nor did he turn up the heat on the frontrunner (who himself hasn't screwed up yet). So in all likelihood, he'll remain merely a fair alternate choice.
Will win: Christian Bale, "The Fighter"
Could win: Geoffrey Rush, "The King's Speech"
Should win: Christian Bale, "The Fighter"
Should have been here: Colin Farrell, "The Way Back" (in lieu of Niels Arestrup in "A Prophet," who wasn't eligible)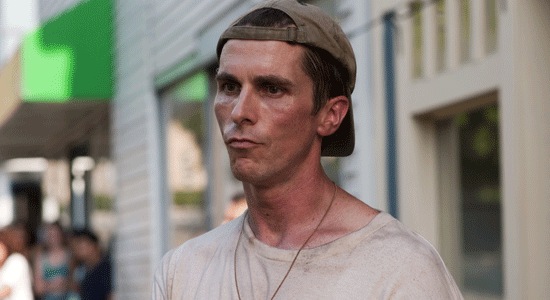 Check out my current rankings for this race at its dedicated Contenders page here.
Who do you think deserves to win the award for Best Supporting Actor? Have your say in today's sidebar poll!
[Photos: Warner Bros. Pictures, Paramount Pictures]