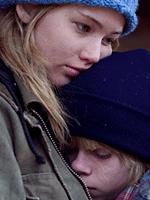 This year's race for Best Adapted Screenplay has seemingly been the most predictable of the year. One script has dominated the precursor circuit and the name behind that script is as worthy as ever given his contributions to the medium over the years.
I'm not particularly a fan of this slate. One script is an interesting experiment that doesn't fully land as a piece of screenwriting, another is a near word-for-word adaptation of a novel (which is fine, but credit where it's due) and another, frankly, made for the most overrated film of the year. But the two that seem to be duking it out for the win are worthy and deserve to be here, in my opinion, so I have little room to complain.
The nominees are:
"127 Hours" (Screenplay by Danny Boyle & Simon Beaufoy)
"The Social Network" (Screenplay by Aaron Sorkin)
"Toy Story 3" (Screenplay by Michael Arndt; Story by John Lasseter, Andrew Stanton and Lee Unkrich)
"True Grit" (Written for the screen by Joel Coen & Ethan Coen)
"Winter's Bone" (Adapted for the screen by Debra Granik & Anne Rosellini)
Each of the nominees is also a Best Picture nominee, unlike in the Best Original Screenplay category. It's possible the race is over and done with, but in a season of surprises, I wouldn't count on things being locked down for any competitor.
Many were surprised at the six-nomination haul for "127 Hours" this year. Others, interestingly enough, thought it would land more. It's an odd in-the-middle film and I still can't be completely sure how the Academy has responded. But I imagine the screenplay race is the least of its potential. Unfortunately, the Academy at large thinks of dialogue when it comes to screenplays, more than formal aspects such as structure, mechanics, etc. And this is a one man show. But it's an interesting vision of Aron Ralston's book "Between a Rock and a Hard Place" by Danny Boyle and Simon Beaufoy, and if nothing else, a unique one. It was audacious, throwing the rules out the window, hungry for something fresh. That being said, 2008's Oscar winner isn't likely to repeat given the competition.
The frontrunner in the category could seemingly be argued as an original screenplay, given the reportage to date. But no one bothered arguing it and here we are, with Aaron Sorkin in the driver's seat for his "adaptation" of Ben Mezrich's "The Accidental Billionaires: The Founding of Facebook, A Tale of Sex, Money, Genius, and Betrayal." Indeed, the best place to reward "The Social Network," regardless of that, would be for its writing. Sorkin's whip-smart dialogue has always been a point of discussion, but he also finds intriguing visual juxtaposition along the way, and a structure that allowed for multiple takes on a clearly multi-sided story. It would be a total shock if someone else's name were called on Oscar night, so it's safe to chalk this one up as a gimme.
But if that shock is going to come, I really think it would be the crew behind "Toy Story 3" that is waiting to pick up the ball and run with it. It would be a second Oscar for Michael Arndt but more importantly, it would be validation for the Pixar process. How fitting, then, that Pixar heavies John Lasseter and Andrew Stanton would also win the award, alongside director Lee Unkrich, as they each have a story credit. It's worth noting that a single name on a script is an asset when it comes to the Oscars (not as messy), but multiple names on the ticket for this film pretty much tells the Pixar tale of workshopping and collaboration, etc. That's before we get to the idea that this would be another chance for the Academy to vote with its heart. Crazy, I know. But crazier things have happened.
Speaking earlier of dialogue, Ethan Coen and Joel Coen lifted the best Charles Portis had to offer (which was plenty) for their adaptation of "True Grit." The language bounces along like a melody through this atmospheric western, one that might have signaled the beginning of a renaissance (after a number of false starts) considering its box office haul. The film itself scooped up 10 Oscar nominations, second only to the year's Best Picture frontrunner. So clearly, the Academy liked the film. But there remains that hurdle which would always pose a problem for traditional types: remaking a John Wayne classic. Unfortunately so few seem to recall how bad that films as and how genuine and expertly rendered this one is, but nevertheless, I would actually say this is a lurking spoiler possibility.
Finally there is "Winter's Bone" from Debra Granik and Anne Rosellini, adapted from the novel by Daniel Woodrell. The script was recognized by the USC Libraries as a Scripter finalist, though it was not eligible for WGA consideration. There is a passion base for the film, which explains its showing up in the Best Picture category this year. Even if it's a moody yarn, it's still bogged down in backwoods stereotypes. Last year's winner here was hit with similar accusations, interestingly enough. Regardless, there is clearly a sect of the membership that loved this film. And there is support from the biggest branch, given the two acting nods. But I doubt all of that will be enough to even thrust it into a competitive position here, so chalk it up as the nomination is the reward.
Will win: "The Social Network"
Could win: "Toy Story 3"
Should win: "The Social Network"
Should have been here: "I Love You Phillip Morris"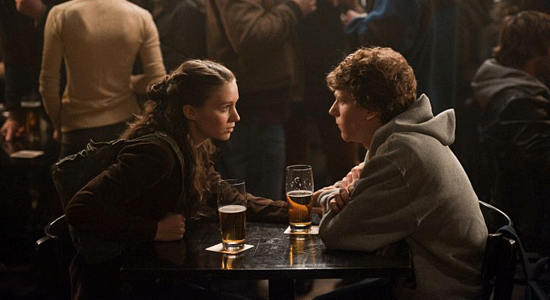 Check out my current rankings for this race at its dedicated Contenders page here.
What do you think deserves to win the award for Best Writing (Adapted Screenplay)? Have your say in today's sidebar poll!
[Photos: Roadside Attractions, Columbia Pictures]