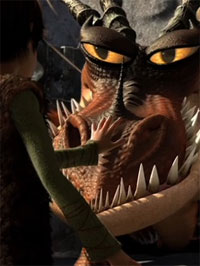 (Sorry we're a bit late getting to this — Kris had more exciting plans for the evening and I like to sleep sometimes.)
It's a shame one can't talk about "How to Train Your Dragon"'s success at the Annie Awards without dragging politics into it. There are those of us who think it legitimately deserves to beat "Toy Story 3" on its own merits, and the sense of entitlement that comes from many of the protests on Pixar's behalf isn't appealing.
But as when DreamWorks's "Kung Fu Panda" upended "WALL-E" at the awards two years ago, there's no way not to view this, to a large extent, as an anti-Pixar vote. If you're not aware of the behind-the-scenes drama, this is it in a nutshell: last summer, Disney and Pixar withdrew from the International Animation Film Society-Hollywood, which organizes the awards, in protest at the voting procedures that enabled that aforementioned 2008 upset. (That Disney/Pixar had still taken the top prize in 13 out of 18 years, including last year's win for "Up," didn't make them any less huffy.)
So this year's scattering of nominations for "Toy Story 3" and "Tangled" were strictly for show: this was always going to be a DreamWorks night, and indeed, "Dragon" triumphed in every single one of the animated feature categories. Pixar did, however, triumph in the Animated Short category — ironically, the category it could well lose on Oscar night.
Anyway, I hope people can express their annoyance at this industry kerfuffle without knocking "How to Train Your Dragon," a lovely film and a credible victor. (Meanwhile, I'm resigned to a New York Film Critics' Circle award being the ceiling for my own favorite film, animated or otherwise, of 2010.)
Full list of film winners t The Circuit.
[Image: DreamWorks Animation]