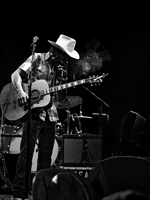 You probably notice I write about Ryan Bingham plenty, even though his successful Oscar season has come and gone.  But you know what?  Sometimes you meet guys n this racket who are real and genuine and, above all, kind, and when someone like that has talent like this, you just want to see him succeed.  And if you do what I do, you want to write about it.
Bingham and his band The Dead Horses played a sold out show last night at the El Rey on Wilshire.  I've only seem him perform in a more intimate capacity (and we were robbed of the chance to see him grace the stage at the Kodak Theatre last year), so seeing him shred it to a capacity crowd was a special sight.
I kind of consider him a latter day Springsteen.  His songwriting has taken huge leaps with the latest album, "Junky Star," and he brings the energy like few contemporaries.  And the sky could be the limit.  We're watching a superstar on the rise.
His good friends Colin Farrell and Reese Witherspoon were on hand.  I also bumped into "Country Strong" star Garrett Hedlund (who I actually thought did a fine job in that film and could be an underestimated good thing for Walter Salles's "On the Road").  But it was just great to see so many Bingham fans turn out.  And they're growing by the year.  When I went back home for the holidays, a formerly frequented haunt suddenly had "Mescalito" on the jukebox and I just smiled.
Catch him if you get the chance.