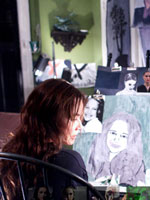 In a busy night for industry awards, the Art Directors' Guild also dished out their trophies yesterday. "Inception" claimed its second Guild prize in one night as it triumphed in the Fantasy category — fending off fellow Oscar nominee "Alice in Wonderland," which would be a surefire winner for "most art direction," in the process.
I'm pleased the elaborate-but-ugly stylings of the latter film weren't rewarded, though I'm struggling to get critic Mike McCahill's description of "Inception"'s production design as resembling a "revolving Best Western" out of my head.
The other two categories were more predictable, as "The King's Speech" took Period honors, while "Black Swan" triumphed in the Contemporary field — a win that places at least some balm on the wound of last week's Oscar snub. (Rewatching Darren Aronofsky's film a few days ago renewed my dismay that the Academy's bias against modern-day work in this category struck again: I just can't see how Stuart Craig's work on the latest "Harry Potter" chapter is more inspired than Thérèse DePrez's intricately coded melding of stage, domestic and psychological spaces.)
Anyway, before you narrow down the Oscar race in this category to "The King's Speech" and "Inception," bear in mind that the Academy and the Guild have parted ways on several occasions — most recently in 2007, when the Oscar went to "Sweeney Todd" over the Guild's choice, "There Will Be Blood." It's interesting that the discrepancy involves a Tim Burton title: three of his previous films have been nominated for the art direction Oscar, and have won each time out. I wouldn't rule out the possibility of "Alice" continuing that pattern.
[Photo: Fox Searchlight]