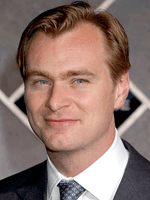 I've been a bit tied up this afternoon and haven't gotten to this yet, but indeed, the WGA has awarded "Inception" and "The Social Network" with its screenplay honors this year.  Color me a little surprised by the original screenplay win for Christopher Nolan, but Aaron Sorkin had a pretty clear ride to this win, I think.
No, I don't think Nolan's win means anything for Oscar.  Seidler has that in the bag and would have had this if the work was eligible, BUT, I'm very happy for Nolan.  It's a much better ending than if the indie had swooped in for some love, as most were expecting.  And I still think said indie is the one in Seidler's rear view.  But for now, I raise a glass to ingenuity through spectacle.
The Art Directors Guild awards are also tonight, but I have to run out.  So I imagine you'll come across the news at some point.  No guild awards next weekend, but the following week will bring the CAS, ACE and ASC.  It's almost over.