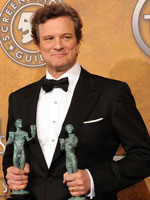 • "The King's Speech" continued its cruise through phase two of the season with a widely unexpected Directors' Guild victory…
• … and scooped top honors at a surprise-free Screen Actors' Guild Awards ceremony.
• Following this brace of wins, this week's Off the Carpet column said what we were all thinking: the race is over.
• Meanwhile, in his Long Shot column, Guy concluded that the royal biopic was likely the film to beat all along.
• In light of this radical momentum shift, we wondered if "The Social Network" can even take screenwriter Aaron Sorkin's presumed win for granted.
• Our Oscar Guide continued, reviewing the races for Original Screenplay, Animated Short, Live Action Short, Documentary Short and Makeup.
• In Tech Support, we interviewed the men behind two of this year's less expected sound nominees, "Salt" and "Unstoppable."
• Kris brought us more reports from the Santa Barbara fest, including a tribute to Christopher Nolan and a big-name screenwriters' panel.
• With the Sundance festival wrapping up last weekend, we wondered if there's another "Precious" or "Winter's Bone" in this year's crop of winners.
• Probable Oscar also-rans "Inception" and "How to Train Your Dragon" had their day in the sun at the Visual Effects Society awards.
• We examined the campaign adjustments being made by a range of Best Picture contenders in the second round of competition.
• Looking beyond the Oscar season, the Cannes Film Festival confirmed Woody Allen's "Midnight in Paris" as their opening film.
• Good news for Gwyneth Paltrow fans: Oscar producers announced that Best Original Song performances will be reinstated in this year's show.
• After last week's special edition, Oscar Talk returned to its Friday slot as Kris and Anne sized up the week's developments.
• Finally, we shared a quote from a nameless Academy member that perhaps shed some light on why "The King's Speech" turned out to be the one.
[Photo: Vanity Fair]