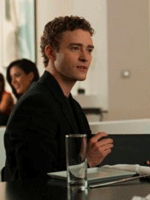 This weekend brings a couple of screenwriting competitions: the WGA Awards and the USC Scripter Award ceremony.  I might as well give you some space to predict.
My bet on WGA is "The Kids Are All Right" for original, but it does seem like an open race.  I consider it the spoiler possibility for Oscar, but if "The King's Speech" were eligible here we all know it would likely win.
Meanwhile, the adapted field is a little easier.  I think Aaron Sorkin will coast to a win for "The Social Network." These are writers voting, after all (and not a mish-mash of disciplines like the DGA).  It won't be as easy on Oscar night, given the broader spectrum of voters, but I think tomorrow night should be simple enough.
The Scripter, meanwhile, is likely to go to "The Social Network," too.  It's between that and "Winter's Bone," really, because when you look at the committee — an assortment of critics, journalists, writers, authors and filmmakers — it just seems like the kind of crowd that would lean one of those two ways.
You can watch a live web cast of tonight's event, which I'll be attending, at the USC Scripter site here.
Meanwhile, Jeff Goldsmith of Creative Screenwriting Magazine is hosting his annual Q&A/podcast with a number of this year's Oscar-nominated screenwriters Sunday.  It's an hour after the damn Super Bowl, though, so I hope I can make it.  It was a treat last year to hear the back and forth.
What are your expectations for the weekend's awards slate?
[Photo: Columbia Pictures]