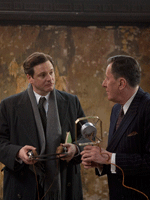 I've been, unintentionally, taking note of the various tactics this year's Best Picture hopefuls have been using as phase two barrels ahead and members have ballots in hand.
The smartest stroke, I think, was The Weinstein Company following up the "Some Movies You See, Others You Feel" campaign with a "Find Your Voice" push for "The King's Speech." It's obviously two-fold.  Yes, it indicates the narrative of the film, but it also works wonderfully in a "don't let anyone tell you what to vote for" kind of way.
Meanwhile, Sony is perhaps reaching a bit to find its own campaign voice for "The Social Network," as "One Movie Connects Us All" is a bit faux-profound.  Show of hands of who's mother isn't on Facebook?  But that making-of documentary (which is available online, on demand and came in disc form in the trades this week) was certainly a smart play.
Fox Searchlight is plugging a "Dare To Be Bold" tag in print ads for "Black Swan," which is the kind of thing that can seem a bit forceful, but it may stop just short of being too much so.  It's also using what it has to show for itself.  A TV spot on The Tonight Show last night noted, "The only movie nominated for Best Picture, Best Director and Best Actress."  Can't argue with that.  But "The King's Speech" had an another, boasting that it is "the most celebrated and acclaimed film of the year."  Well, hang on a second…
Stretching can be found elsewhere, too.  Ads for "True Grit" call it "the most honored American film of the year" (NOTE: Nathan makes a good point in the comments below that I must have missed, but I guess that makes the point that clarity is everything), while the "Toy Story 3" campaign is leaning heavily on Rotten Tomatoes for its "best reviewed film of the year" claim.  It's as applicable a source as any, but the designation is nevertheless arguable.
Then there is "Inception." Warner Bros. bought a giant gatefold card stock ad in this week's Hollywood Reporter (and I imagine elsewhere, too).  It kind of accentuates the epic nature of the film, but then quotes emphasizing "wholly original," "wildly ingenious" and "masterpiece" start to lose the focus by bludgeoning.  I'd stick with one quote noting the originality and ingenuity of the film contrasted with something like this gatefold, which punctuates its blockbuster nature, and therefore establish it as an intriguing, ahem, "paradox."  But what do I know?
That's just on a first pass of the week's materials.  I'm sure there are other twists and turns on the campaign trail to come.  For instance, I get the sense Paramount is content to let the two frontrunners fight to the death before unleashing something special for "The Fighter," but we'll see.  There are, interestingly enough, already Best Director FYC ads online that state, in no uncertain terms, "the comeback story of the year."
It's all about the journey.
[Photo: The Weinstein Company]