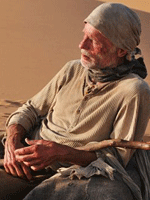 The makeup branch of the Academy has often been criticized for making "Oscar nominees" of artistically dubious films. But I submit that it's one of the bravest and noblest branches, sticking properly by the point of their task: to single out the greatest achievement in their field, no matter the other factors.
This year's line-up is a clear indication of as much. Each nominee is unique to this category, having not been recognized in any other field. The variety of work is also compelling, including realism and fantasy in equal measure. But the branch once again turned its back on a number of more gruesome makeup depictions this year, which seems to be a hurdle yet to be cleared.
The nominees are:
"Barney's Version" (Adrien Morot)
"The Way Back" (Edouard F. Henriques, Gregory Funk and Yolanda Toussieng)
"The Wolfman" (Rick Baker and Dave Elsey)
If you're dying to know more about these nominees, I'd suggest you check in with Gerard in next week's Tech Support Interview. He'll be sitting down with nominees from each film and will surely dig up some interesting stories.
One attribute of quality makeup work this branch consistently respects is transformative work that is realistic. Whether it's "Il Divo," "La Vie en Rose," "Click" or "The Sea Inside" in recent years, they'll raise a glass to practical application every time. This year, "Barney's Version" was always lurking as a potential nominee in this regard, and in lieu of fantastical approaches in "Alice in Wonderland" or "Jonah Hex" (and over similar tasks in "The Fighter" and "True Grit"), the branch opted for the impressive aging work done to Paul Giamatti by Adrien Morot in Richard J. Lewis's film. It's actually quite a sight to see the actor moved so effortlessly through the decades in the film, but it's possible the film just doesn't have a high enough profile to register any further.
But high profiles aren't the point as far as this branch is concerned. Otherwise "The Way Back" certainly wouldn't have shown up, but with exceptional work from multi-time nominees, it was always going to be difficult to ignore this one. Edouard F. Henriques and Yolanda Toussieng were both singled out for their work on Peter Weir's last film, "Master and Commander: The Far Side of the World," while Henriques had one prior nomination and Toussieng had two. (It's Gregory Funk's first trip to the dance.) Clearly they're respected veterans, but did the Academy at large even get around to seeing the film? If they did, maybe they'd be swayed by effective blistering and swelling effects put to stirring use on the film's ensemble to reflect a range of conditions — heatstroke, sunburn, etc.
In the final analysis, though, "most" is probably a suitable replacement for "best" in this and many a design field. And "The Wolfman" certainly flaunts its stuff. That's not to diminish the work, though, because makeup legend Rick Baker and co-nominee Dave Elsey really came up with some brilliant and incredibly detailed effects work in this big budget horror entry. Perhaps it's not the most critically acclaimed film of the bunch (which I recognize is putting it mildly), but the makeup is easily the most memorable. Though I guess when you're working with iconic imagery, that always helps. If the film wins, it'll be Baker's seventh Oscar to date (his first since "How the Grinch Stole Christmas" 10 years ago).  Another fun fact: Baker and "The Way Back" nominee Yolanda Toussieng won here in 1994 for Tim Burton's "Ed Wood."
Will win: "The Wolfman"
Could win: "Barney's Version"
Should win: "The Way Back"
Should have been here: "Shutter Island"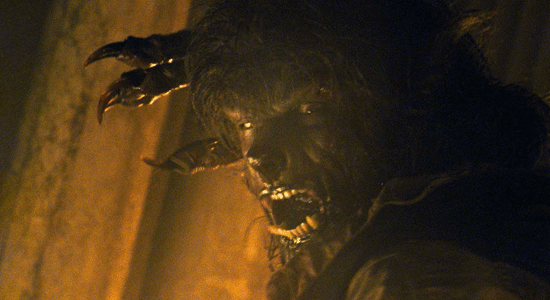 Check out my current rankings for this race at its dedicated Contenders page here.
What do you think deserves to win this year's Oscar for Best Makeup? Have your say in the sidebar poll!
[Photos: Newmarket Films/Wrekin Hill Entertainment, Universal Pictures]