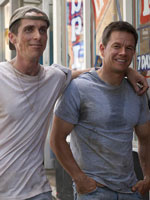 On the occasions that they donate some space to the medium, the New York Review of Books can be a source of pretty world-beating film criticism — and from some unexpected voices, at that. A few months ago, I featured Zadie Smith's matchless essay on "The Social Network," but if that film's media ubiquity made it an obvious topic for an intellectual outsider, it's a delightful surprise to see the venerable American Joyce Carol Oates (herself the author of pugilism tome "On Boxing") taking on "The Fighter."
Better yet, she addresses David O. Russell's boxing biopic with more seriousness and sensitivity than many a well-versed film critic; the film opens today in the UK, and has been greeted by a disappointingly large number of polite but unenthused reviews, many of them carelessly citing a TV aesthetic.
Oates argues for "The Fighter" as a "directorial homage" of sorts to "Raging Bull," but sees an elegiac conflict in an underdog story that more have likened to the straight-up feelgood storytelling of "Rocky."
She writes;
Like Clint Eastwood's Million Dollar Baby (2004), a similar amalgam of gritty pathos, unabashed sentiment, and very good boxing footage that earned accolades for its principal actors, Eastwood and Hilary Swank, The Fighter is, if not a champion film for all time, a very good, poignant, and commendable expression of its era—postindustrial working-class urban America, bereft of history as it is bereft of jobs, strong unions, pride in one's work. Lowell, Massachusetts, is the ideal setting for this modest fairy tale of an underdog who finally comes out on top—if but temporarily, and with what cost to him, no one quite knows or seems to care.
I'm pleased to see the film receiving some credit for its intricate tangle of social and geographical detail. The prescribed awards season narrative has focused extensively on the socio-cultural implications of "The Social Network," but some of its fellow nominees — not just "The Fighter," but "The Kids Are All Right" and "Winter's Bone" too — also warrant attention for their own reflections on community in modern America. Read the rest of Oates's essay here.
[Photo: Paramount Pictures]