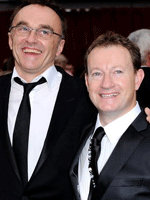 The best part of this evening for me wasn't Aaron Sorkin and Ben Mezrich winning an award for "the best adaptation of the printed word into film" (for a work that is debatable as an adaptation in the first place).  It was probably talking with finalist Simon Beaufoy about his latest script.
Some of this has made the rounds in the UK, but apparently it's a werewolves-in-gangland-LA script adapted from an epic poem, "Sharp Teeth," about same from Toby Barlow.  Seriously.  Picture "Boyz N the Hood" where Doughboy and his crew turn into savage dogs at night.  And it's a potential project for Danny Boyle to direct.
Beaufoy told me about ride-alongs he has taken with LAPD officers in Compton and Watts in the way of preparation.  As a screenwriter, he says he prefers to observe quietly, but the cops he was riding with would insist, quite comically (as he describes it), on perpetrators spending a couple of minutes chatting with him at every bust.
Oddly enough, I took part in a ride-along once, in film school, for a screenwriting assignment.  So it was fascinating to hear some of the stories he had to tell.  But most fascinating is just this overall concept, which sounds like a — forgive me — howl.
Anyway, if you missed the Tweeted news, as mentioned, Aaron Sorkin and Ben Mezrich won the Scripter at tonight's ceremony.  No one involved with "True Grit" or "The Ghost Writer" was present (though it would have been awesome if Charles Portis had shown up).  And Dennis Lehane couldn't even be bothered to show up and accept the Literary Achievement honor that was announced months ago.  But it was, as usual, a classy evening, and it remains one of my favorite honors of the awards season.  Even if they potentially got a bit off message with this year's winner.
[Photo: Snoot]