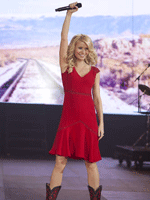 The Academy's Twitter feed just noted the following:
You heard it 1st: Best Song performances are back for 83rd #Oscars! Gwyneth Paltrow set to sing…more on the way.
To which I say: Great.  It was grossly disrespectful, I thought, to suddenly jerk them from the telecast last year (and if you heard some of the things being said of the nominees — by the telecast's producers — behind the scenes last year, you might have been riled up a bit, too).  I think Ryan Bingham missed out on a great opportunity to reach a global audience with one of the best winners in that category in some time.
But anyway, obviously they see having someone like Gwyneth Paltrow perform on the show (as she did recently on the CMT awards) as a ratings asset.  Ditto Mandy Moore (who will be performing "I See the Light" with Zachary Levi and Alan Menken).  A.R. Rahman will do "If I Rise" with Florence + the Machine (no Dido) and Randy Newman will be there to belt out "We Belong Together."
Check out the Oscar Guide to Best Original Song here.
[Photo: Screen Gems]