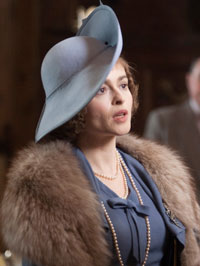 "Let me get this straight. The one's about a precocious computer geek who's also a bit of an asshole."
"Yeah."
"And the other's about King George VI."
"Yeah."
"And King George VI has a disability."
"Well, he has a stutter. I mean, it's not crippling or anything — "
"But it's an obstacle that needs to be overcome."
"Yeah."
"And I assume, at the end, he does. And becomes King."
"Got it."
"While Zuckerberg ends up rich and alone and still an asshole."
"That's about the size of it, yeah."
"And you thought the computer-geek movie was winning because… ?"
I can't tell a lie — it was annoying having the Best Picture race so neatly explained to me by a friend whose interest in the Oscars extends as far as whether or not Mila Kunis is presenting an award, and who hadn't even seen either of the films in question. It was annoying not so much because his argument was glib and reductive and sketchily informed, but because it was also absolutely right.
In the wake of a remarkably good week for "The King's Speech" — starting with that eyebrow-raising Producers' Guild win and ending with another pair of key Guild victories, taking in a cool dozen Oscar nominations in between — a lot has been written about reversals and returns, both on the course of this year's awards race and the Academy's own recent history. The seasonal shift in momentum from "The Social Network" to "The King's Speech," some will have you believe, represents a pushback against critical opinion, as well as a return to older definitions of "Oscar bait" that the last few years of Best Picture winners had called into question. Out with the new and in with the old, we're being told, in more or less melodramatic terms.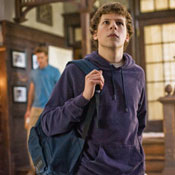 Some of this may be true. I certainly don't think American critics helped David Fincher's film by hailing it with such oppressive unanimity — perhaps they thought they could exert the same pressure on the Academy that they did with "The Hurt Locker" last year, ignoring the fact that they'd picked a chilly vehicle without the appealing built-in "story" that Kathryn Bigelow's history-making win gave last year's atypical champ. Oscar voters can be encouraged by critics, but they can't be strongarmed in the face of something they like better — as "L.A. Confidential," a similar critics' award sweeper, learned in 1997 when put up against "Titanic." To paraphrase Bonnie Raitt, you can't make the heart feel something it won't.
And yes, that "The King's Speech" is the first outright period piece (the oddly stateless 1980 setting of "No Country for Old Men" notwithstanding) to lead the Best Picture race since 2002 does give it the appearance of a throwback — especially when you consider that "Chicago" capped a period when only one contemporary picture eked out a win in 11 years.
But all this is to assume a) that "The Social Network" was ever the film to beat in the first place, and b) that Academy members lost their taste for comfortable, classy period drama in the last five-odd years. There's much cause to doubt the first statement: that Toronto audience award was an early indication of how broadly appealing "The King's Speech" is, and it was only the raft of precursor awards in December that overrode my initial assertion that Fincher's film skewed too far from the average awards voter's age and interests.
The second assumption, however, is more ambiguous: one that seems borne out by the last few Best Picture winners until you step back and take a long view of each year's competition. The truth is that recent mainstream cinema has not been generous with the kind of lacquered, literate romantic canvases traditionally classified as "bait" in this game — at least, not ones that spoke to an audience as compellingly as Tom Hooper's film has managed to do. "The King's Speech" isn't too different from, or appreciably better than, 2009's well-appointed royalty soap "The Young Victoria," but its alchemical reaction with viewers — happily, if coincidentally, coming at a time when Prince William's engagement has amplified public interest in the royal family — lends lustre to a traditional format.
If you examine the last few Best Picture fields, you'll see that the Academy wasn't consciously rejecting the "King's Speech" in each pack — just that there wasn't such an option in the first place. Faced with a less familiar menu, voters still gravitated as far as they could towards tradition. "The Departed," cool, kickass genre exercise that it is, seems an odd choice of winner until you consider that it was the most comfortably old-Hollywood title in contention, with the added sentimental draw of rewarding a beloved old master.
"No Country for Old Men" may be one of the grimmest, most oblique films ever to take the gold — but consider that voters' only credible alternative was "There Will Be Blood," a similarly bleak and rather more unhinged bit of Americana from a less storied filmmaker, and their vote for the Coen Brothers still reads like one for the establishment. (Cut-glass period romance "Atonement" had all the set-dressing of a frontrunner, but its tricksy literary switchbacks could never have had the Academy's heart — as good a case study as any to prove that it's not enough merely to look like bait.)
"Slumdog Millionaire?" Exotic international trappings swept to one side, its rags-to-riches, against-all-odds love story is a hybrid of multiple well-worn Hollywood storytelling structures — the more immediately accessible alternative to the fussy formal fantasy of once-presumed frontrunner "The Curious Case of Benjamin Button." Finally, the interior narrative of "The Hurt Locker" may not have contained too many Oscar-friendly hooks, but the exterior narrative of its unlikely battle with the behemoth that was "Avatar" did — enough to convince warier voters to give the small, difficult picture a look. The film was its own underdog story.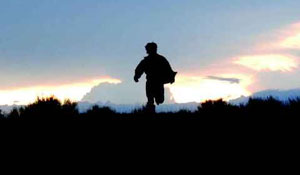 It'd be silly to suggest that these external factors are chiefly responsible for the win in each case: they're all highly effective films that, as with any Best Picture winner, got to the podium because a sizeable proportion of voters responded to what they saw (and yes, to nod to Harvey Weinstein's savvy new campaign line, felt) in the movie theater. "The King's Speech," assuming it follows suit, is no different: a number of writers who follow the race (myself included) may think it a less thoughtful or adventurous choice than in years past, but to the voter, their decision-making process remains consistent.
Neither should we encourage them to approach their ballots differently: the voices pre-emptively scolding voters for picking the less "significant" nominee aren't too far removed from those who might have suggested, back in 1943, that "Watch on the Rhine" was a more "relevant" choice than "Casablanca." We all want the Academy to think as we do — hell, if I had my way, this whole tedious contest would be scrapped in favor of a boxers-'n'-ballerinas showdown between "Black Swan" and "The Fighter" — but we shouldn't panic, much less assume a change in the guard, when they don't.
There's as much throughline between "Slumdog Millionaire," "The Hurt Locker" and "The King's Speech" as there was 20 years ago between "Driving Miss Daisy," "Dances With Wolves" and "The Silence of the Lambs," so talk of the Academy's return to old habits is tenuous at best. Despite appearances to the contrary, as my disinterested friend sussed out, voter preferences don't change much from one year to the next; the films to which they are applied, on the other hand, do.
[Photos: The Weinstein Company, Columbia Pictures, Miramax Films]