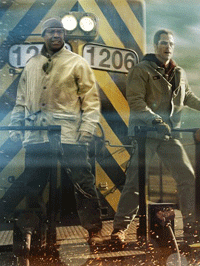 When Oscar voters spoke up last Tuesday, two intriguing craft category nominations stuck out, both coming from the same branch: Mark P. Stoeckinger's third bid to date for the sound editing of "Unstoppable" and Greg P. Russell's fourteenth — yes, fourteenth — for the sound mixing of "Salt."
The Academy's sound branch consists of 405 members, enough to be the fourth-largest voting block of the organization.  Including Best Picture, they have three opportunities on a nominations ballot to make their voices heard, as opposed to the usual two for other disciplines.
It seemed a good idea to sit down with these two lone representatives of their films, given that they were ushered into the race by the same community (and hey, they share a middle initial).  Both are also coming off of nominations last year.
After one of the most intricate jobs of his career on "Star Trek" in 2009, Stoeckinger was fortunate to work with both Ridley Scott ("Robin Hood") and his brother Tony ("Unstoppable") for the first time this year.  "They're similar in that sound is an important tool for their film-going experience, for sure," he says.  "And they're amazingly creative guys."
When he first met with Tony Scott about the white-knuckle train ride that is "Unstoppable," he says "there was a whole backend of a sequence where the trains are braking and it's squeaking and I said it could be challenging for audiences and he said, 'Eh, don't worry about that.'  That's kind of the Tony Scott style."
Indeed, Scott's brand of cinema has come to be defined by its frenetic and energetic quality.  But "dangerous" was also a word the director kept using in describing what he wanted out of the sound effects of the film.  And they put a particular focus on the "voice" of the 777, a runaway locomotive barreling toward a potentially disastrous fate.
"Since the 777 is the antagonist and inanimate, it needed to be personified as much as possible," Stoekinger says.  "To that end the train needed to have a very specific character and Tony wanted 'the audience to be able to close their eyes and know exactly what they were listening to.'"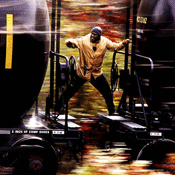 There were two primary character sounds for the "character."  One was the sound based in reality, which turned out to be the whine of dynamic brakes as a train descends a long grade to slow it.  Without knowing that the sound is really that of a train slowing on its own it sounds like the incoming whine of a dive bomber.  Through lots of recording and manipulation by sound designer Alan Rankin, that became the sound of the 777 any time it was at speed.
In addition, "the 777 was characterized as 'The Beast,'" Steockinger says, "and we needed a sound for that.   Ultimately it needed to be an other-worldly type animal metal sound, which was created by David Lai, and that sound became the attack voice when the 777 was doing something specifically aggressive."
A sound effects editor working on a train movie is like a kid in a candy store.  The crew went up to Fillmore, California where you can rent an engine and cars and stage them for the various things a film crew might need.  They gathered a lot of interesting sounds for their purposes, but that universal "clickety clack" noise we associate with trains is a bit outdated, give that the expansion joints of most tracks are welded these days, rather than bolted.  But nevertheless, that's the sound Scott wanted, largely because of the immediate image it conjures.
"Trains are all about sound," Stoeckinger says.  "Tony wanted to create that feeling for the audience.  There's a lot of things that got recorded on the set that were a starting point, but I've been using the analogy that it's almost like shooting a documentary.  You know the subject matter and the story you're telling, but you've got to gather a lot."
The work apparently did its job and then some, as even critical reviews of the film mentioned the sound in a positive, contributing-to-the-experience light.  And here Stoeckinger sits with his third nomination do date.
Of Greg P. Russell and company's work mixing the sound elements of Phillip Noyce's "Salt," Stoeckinger says, "I was so impressed that the soundtrack had such an interesting and specific dynamic shape.  In an action packed film, it can be way too easy for the track to become a wall of noise with all the sound effects, music and rapid fire dialogue.  Greg did an excellent job of creating a dynamic mix where it goes from being subtle and articulate to bold and exciting.  I'll never think of a freeway chase without referring to 'Salt!'"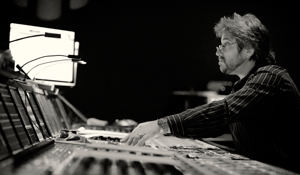 That idea of balance and clarity is something Russell says was an absolute priority when it came to the flow of this Angelina Jolie actioner.
"We do things so that it's comfortable," he says.  "Nothing hurts in our movie.  That's something I'm very proud of.  We must create a dynamic range so that when we go to a 10, it says something.  If we can sit at sevens and eights and then, boom, when that frickin' crane rips through that building and it's a big moment and we go to a 10.5, now people go, 'Whoa!'  But not if they've been living at a 9.5 to a 10 all the way through the movie up until that point."
It's a philosophy shared by director Noyce, who told Russell it was very happy for his mixing team when he got the news last week.  It doesn't serve the dramatic impact of the action if the audience is spent because of an oppressive mix.
"You want to reserve those moments," he says, "and the way to do that is creating shape and lower dynamics, getting quiet.  That's something we tried to do in 'Salt.' It's all shape and contrast, soft to exploding, and that manipulation serves well for a six-reel chase movie."
Interestingly enough, Russell compares Noyce to Scott (who he's worked with countless times) when it comes to how hands-on they are on the mixing stage.
"He's there, frame by frame, going through the movie," Russell says.  "'Where's that dialogue line?  Didn't we have a radio call there?'  He'd be so familiar with the content that if something wasn't there that used to be there, he would catch it.  And it was all about beats.  That's what was intriguing to me about him.  It was just tempo, drive.  Everything was about rhythms to him and pace that creates tension.  This movie had to continually push forward and be propelled.  And that's the sound and the editing on the film."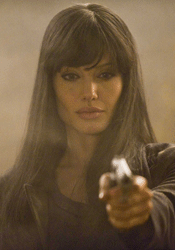 Russell recalled the notes he received from producer Lorenzo di Bonaventura, which were just as helpful.  A lot of times, he concedes, a producer may just want to kind of put his or her stamp on a production with recommendations, but di Bonaventura had several pages of crucial suggestions.
"They were about energy," Russell says.  "There were sequences where they were looking at video monitors and she was escaping and he said, 'We need frantic police calls, squelches.  We need to hear voices, kind of panicky.  We need energy in this particular room.'  And he did that throughout the movie.  He found places where we could add these elements and he was right on the money."
Additionally, there were no egos on the sound stage, which is naturally a relief in any setting.  There was no "hey, stick to your sound effects, man" stuff, which he says you can sometimes get.  Russell, by the way, was in charge of mixing sound effects on the film, while Scott Millan handled music, Jeffrey J. Haboush handled dialogue and William Sarokin served as the production sound mixer on set.
"It was a very busy film on all fronts," Russell says. "Dialogue, music, and effects.  Mixing this film with Jeff and Scott was a true pleasure and they both did an incredible job.  It was all about, 'What can we do here to make this cool?'  A suggestion from me to the music department: 'Can we clear out right at that impact?  We're driving through that impact.  Can we drop out?'  And Joey Rand, our music editor, would then go and edit that music so it would build right up to that impact and just cut off and I was totally out in the clear with this big effects moment.  And that's a collaborative effort, because it wasn't clean, prior to him making that edit.  They could say to me, 'Can we clear out those effects right there?  We're trying a melody thing.'  Absolutely.  There was no fear of getting bold and exploring and experimenting."
All of that work cranked up the excitement on the summer blockbuster and helped yield what many think was a surprise nomination for the film.  There's plenty of respect for balance and clarity in the sound mixing community, and a last-minute screener push to make sure they actually had a chance to see and evaluate the work themselves was extremely helpful as well.
Regarding Stoeckinger, Russell is quick to say that his fellow nominee has "done great work for a long, long time.  If his name is on it, I know that it's going to be a first rate sound design and editorial job on the film.  'Star Trek' last year, brilliant.  So deserving.  His work on 'Unstoppable' was fantastic.  Great sounds.  The movie was a high octane, bold sound job."
I thought it would be a good idea to leave you with the SoundWorks Collection profiles on both films, as it's a website wholly dedicated to the sometimes undervalued work of this community and they crafted handsome featurettes on each.
[Photos: 20th Century Fox, Greg P. Russell, Columbia Pictures]