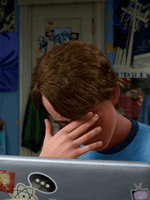 I'm really not trying to drop another grenade on the season here, but I was wondering recently about surprises this year and whether there are more in store.  And one undeniable shock would be an upset in the Best Adapted Screenplay race.
Some would point to "True Grit" or "Winter's Bone" as the likely runner-ups to Aaron Sorkin's all-but-assured win, but if members are voting with their heart in the Best Picture field, why not in the screenplay races, too?  In "Toy Story 3," I think you've got the makings of a real spoiler.  It's a wonderful close to a beloved series and, look at that, it has "story" right there in the title, waiting to be capitalized upon in advertising.  (That one's free, Disney flacks.)
In all likelihood, the Academy will feel comfortable sticking with the Best Animated Feature (and potentially Best Original Song) fields as a way to recognize this film and franchise, but if they wanted to spring for more, this would be the place.  And Michael Arndt, an Oscar already in tow, isn't some unknown newbie making his way through the season.  When it comes to screenplays, the Academy at large simply thinks about dialogue before all else.  That's the extent of sweeping understanding of the form.  And Sorkin has that in spades, so the smart money, no question, is on "The Social Network." I'm just saying the smart money was also on David Fincher once upon a time.
Pixar has consistently been heralded for its story process.  In 2008, many thought "WALL-E" could actually eke out a win in the Best Original Screenplay race, but it was ultimately leap-frogged by Best Picture nominee "Milk." There is still some bias there, so maybe an animated film winning a screenplay prize is a long way off.  But then again, maybe not.
Anyway, Variety's Debra Kamin recently spoke to Arndt and director Lee Unkrich about the film.  Here's a taste:
As for his frosh scribe…[Unkrich] was confident. "Everyone was on board with having Michael write this movie even though it was this treasured property," he said. "We trusted him."

Arndt was a quick study. "The 'Little Miss Sunshine,' process was me sitting in my backyard building a little homemade rocket. And going to Pixar and writing 'Toy Story 3' was like going to work at NASA," he said. "It's sort of the same thing but not really."
More at Variety.
UPDATED: Speak of the devil.  Disney sent out a press mailer today with a big poster featuring all 12 of the "Not since…" ads that have dotted the campaign landscape this season.  On the other side is the already-becoming-iconic Buzz Lightyear standing against a black background with the film's five Oscar nominations listed at the bottom.  Best Picture and Best Animated Feature are accentuated, but I might have dropped animated down a tier and put Best Adapted Screenplay at the top, too.
I asked for a jpeg of the poster rather than taking a crappy photo.  Here it is (click for larger versions):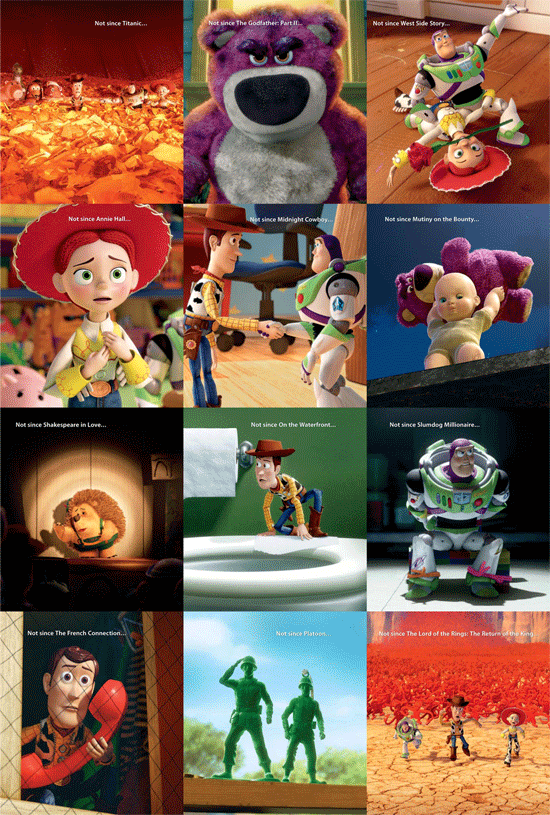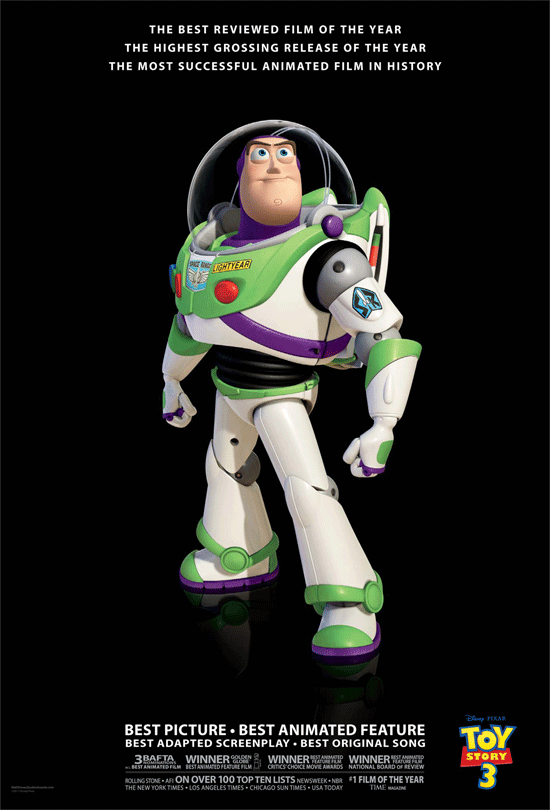 [Photo: Walt Disney Pictures]