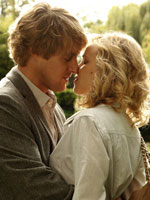 The ever-informed insider Cédric Succivalli broke the news this morning that May's Cannes Film Festival will kick off with Woody Allen's "Midnight in Paris" — an ensemble romantic comedy starring, among others, Marion Cotillard, Carla Bruni, Owen Wilson, Rachel McAdams, Adrien Brody, Kathy Bates, Michael Sheen and Léa Seydoux.
It's hardly a surprising choice. Cannes has been good to Allen over the years: recently, "Match Point," "Vicky Cristina Barcelona" and last year's "You Will Meet a Tall Dark Stranger" all premiered on the Croisette, while "Hollywood Ending" also served as the festival's curtain-raiser in 2002.
Moreover, the strong French flavor of his new project all but assured it a Cannes berth, while all that star power — plus the possibility of a certain Mr. Carla Bruni tagging along — guarantees maximum media coverage on opening night.
Of course, the honor of opening Cannes has been a bit of a poisoned chalice of late, with only Pixar's "Up" breaking a streak of poorly received selections including "The Da Vinci Code," "My Blueberry Nights," "Blindness" and last year's "Robin Hood." And memories of "Hollywood Ending" (Allen's single worst film, for my money) christening the red carpet nine years ago are, by and large, not treasured ones.
So here's hoping for an improvement on both scores. I will once more be in attendance to deliver an early verdict. Roll on spring.
[Photo: Sony Pictures Classics]