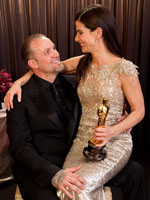 A few days ago, a reader responded to a trivia note by Steve Pond, about the number of Best Actor nominees whose Christian names begin with the same letter, with the question, "Is this the point at which we are officially over-saturated with Oscar stats?".
Well, if we weren't there then, we might be now.
Yesterday, the Huffington Post ran an interview with an academic who has invested far too much time looking into the so-called "Oscar Curse" — the unfortunate trend that has seen many a star headed for divorce court shortly after winning the Best Actress Oscar. Recent examples include Sandra Bullock, Kate Winslet, Reese Witherspoon, Hilary Swank and Halle Berry, but a University of Toronto research project (!) suggests the curse goes further back than that.
From the article:
Researchers compared actresses who won Best Actress statuettes from 1936 to 2010 to those who were nominated but didn't win, and found that winners were, indeed, 1.68 times as likely to divorce as non-winners. Of the 265 married nominees, 159 eventually divorced–a whopping 60 percent. The same was not true for men–there was no significant difference in divorce risk for Best Actor winners and Best Actor nominees.
What follows is some clichéd if not wholly implausible pop psychology about a woman's career ascent placing strain on her marriage when it eclipses that of her husband — though they do at least acknowledge the somewhat dampening argument that divorce is a likely outcome for many a Hollywood marriages, whether Oscar is involved as a third party or not. They don't, however, offer conclusive stats on the likelihood of imminent Oscar success pre-emptively sending spouses into the arms of tattoo models.
Important stuff, I'm sure you'll all agree. At the very least, perhaps it'll serve as some consolation to Annette Bening if she loses the Oscar for the fourth time. Or not. Meanwhile, anyone know if the University of Toronto offers classes in this stuff?
[Photo: Alt Film Guide]