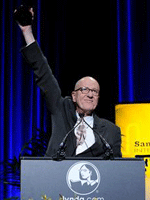 Last night saw Santa Barbara's tribute to "The King's Speech" star Geoffrey Rush.  Looking suave with a cleanly shaved head (for his current role on stage in "Diary of a Mad Man"), Rush held court with trademark affable humor and tales of his comparatively brief Hollywood career thus far.
I Tweeted this and that from the tribute, but more than anything I was reminded again how much I loved the criminally underrated "The Tailor of Panama." Discussion naturally flowed from "Shine" to "The King's Speech" and all points in between, an engrossing reminder of just how rich Rush's work is no matter the role.
In a recent interview with The Race's Tim Appelo (which is, consequently, a great place to start for those who continue to diminish the the directorial attributes of "The King's Speech"), Tom Hooper had a wonderful take on directing the actor…
Geoffrey was trained at Lecoq Mime School in Paris, and is consequently brilliant in the way he carries his body. His Exit the King on Broadway was a master class in physical acting. So I'd start out with a closeup and — oh God, he's doing something amazing with his hand which I'm missing. Then we'd go a bit wider. Then I'd go, God, I love that, but I'm missing the silhouette his body's making, so I'd go wider still, to explore his body language.
Graceful is the word I'd use.  There's an ease and natural flow to Rush's work, and it's as evident as ever in "The King's Speech."
Speaking of which, Colin Firth took the stage to present the honor.  "Work with this man at your peril," he said.  "It's an addiction."
Immediately after, the first ever Santa Barbara prize for an ensemble cast was given to Rush, Firth and Helena Bonham Carter, also on hand, with Hooper in the house to present.  Roger Durling and the festival brass must have looked like prognosticators themselves for dishing out such a prize, given the perceived surprise of the film's ensemble win at the SAG Awards Sunday night.  "After the roller coaster weekend I've had, it's relaxing to be giving an award rather than sitting in the audience," Hooper said.
And with that, my Santa Barbara experience comes to an end.  There are still tributes ahead for the Virtuosos (Andrew Garfield, John Hawkes, Jacki Weaver, Hailee Steinfeld and Lesley Manville), as well as Nicole Kidman, but I'll have to miss them this weekend.  I think it's been a raging success this year, though, with some of the best fetes I've seen here to date.  Bravo to Durling and his staff for yet another handsomely mounted program.
[Photo: USA Today]