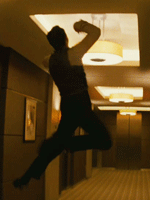 Four for "Inception," three for "How to Train Your Dragon" (which beat out "Toy Story 3" every step of the way).  "Hereafter," meanwhile, took the supporting effects award.
Key quote from Christopher Nolan, who received the inaugural Visionary Award:
I know visual effects people pride themselves on doing the impossible.  I'd just like to encourage you to say "no" to the unreasonable.
(Courtesy: David Cohen)
Check out the full list of winners at The Circuit.
[Photo: Warner Bros. Pictures]