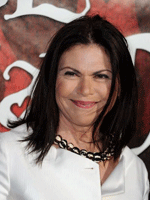 I really should take the time to write up Saturday's women's panel here in Santa Barbara, not least of all because it seems to have been neglected in most outlets.  It's an undervalued annual program, always moderated with class by Madelyn Hammond and featuring some of the most formidable female talents working in the industry.
This year's group consisted of "Toy Story 3" producer Darla K. Anderson, "Alice in Wonderland" costume designer Colleen Atwood, Skywalker Sound Vice President and general manager Gloria Borders, "Waiting for Superman" producer Lesley Chilcott and "Winter's Bone" producer Alex Madigan.
The immediate thing that sticks out is how so many of the panelists are producers, and Borders was quick to note as much.  "You don't see that many women that are visual effects supervisors or editors or sound mixers," she said.  "Women are really good producers.  We're really good at getting people to get along and walk in the same direction."
Hammond asked each about mentorship in their careers.  Anderson noted the impact Apple CEO (and former Pixar chief) Steve Jobs had on her, while for Madigan it was filmmaker Alan J. Pakula.  Chilcott cut her teeth at MTV where she was a vital part of the creation of the MTV Movie Awards (and all the unique categories, such as Best On-Screen Kiss and Best Action Sequence, that were developed for that annual ceremony).  And, of course, Borders has come up under the wing of George Lucas.
Atwood, though, noted how first working with Tim Burton, on 1990's "Edward Scissorhands," was a major turning point in her perception of what gave her joy in this business.
"Tim gave me an opportunity to work on a different film than I'd ever done," she said.  "He's been incredibly loyal to me ever since."
It's a 25-year collaboration that in 2010 brought her to "Alice in Wonderland," which challenged her on a new front: costuming to green screen and with visual effects in mind.  For instance, the Red Queen's collar had to be expanded practically in order to leave room for the character's digitally enhanced head.  The work brought her a ninth Oscar nomination.
It was actually a great honor to meet Atwood at a luncheon just prior to the panel.  "Toy Story 3" writer Michael Arndt talked with her about how Brad Bird based the Edna E. Mode character from "The Incredibles" on famed costumer (and, ahem, 35-time Oscar nominee) Edith Head.
Each of the panelists are current or former Oscar nominees, and Hammond pointed out that Anderson is the only solo credited producer of a Best Picture nominee this year.  She's also only the seventh sole female producer of a Best Picture nominee to date.
Anderson spoke about her approach to spearheading a massive production like "Toy Story 3," which further makes Pixar sound like one of the best places to work in the business.
"I actually laugh a lot," she said.  "We crack a lot of jokes.  And sometimes we just send everybody home and shock people into doing something different.  The burn-out can be tough."
She noted that one of the biggest challenges on the new film was to stay true to the franchise visually, but still update it with all the new tools at an animator's disposal.
On the complete other side of the budget spectrum is "Winter's Bone," which Madigan noted as a labor of love that faced its share of uphill battles.
"We tried to put the movie together in the kind of classic model, casting a name actor and getting foreign financing," she said.  "That didn't work.  So we were in a place where we could cast some unknowns.
As a result of few familiar faces, she noted, "Perhaps the biggest compliment paid to the film came from [indie filmmaker] Gregg Araki, who told me, 'I haven't seen that kind of a bizarre world since 'Avatar.'"
She also served as music supervisor and post-production supervisor on the film.  And a little over a year ago, they were considering DIY distribution alternatives in case nothing happened for the film in Sundance.  Cut to: four Oscar nominations, including Best Picture.
Chilcott, meanwhile, may have still been smarting a bit from that unexpected Oscar snub for her film last week, but the mission of "Waiting for Superman" continues.
"When you make a film that you think affects people, you develop a social action campaign," she said.  "We have town hall screenings all over the country and we invite people to have a discussion afterward.  My point is the life of the film is on-going."
Chilcott said those who purchase the film on Blu-ray or DVD will receive a $25 donor's coupon to be given to any classroom project listed on the website DonorsChoose.org.  Her next documentary, she says, which will be a directorial debut, will focus on online privacy issues and online behavioral tracking.
[Photo: LIFE]