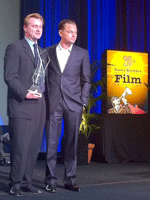 "He no longer challenges our ideas about film," actor Leonardo DiCaprio said of Christopher Nolan tonight, before presenting him with the Modern Master Award.  "He has helped define them."
It was a great bow on a fine evening meant to celebrate the director's work over the last decade.  The Modern Master designation is Santa Barbara's highest honor and, despite an unexpected Oscar snub for Best Director from the Academy last Tuesday afternoon, this is certainly the year to single him out in such a light.
Pete Hammond served as moderator for the evening as he queried Nolan on his brief if dense career to date.  It was shrewd to note that "Following" in 1998, a $6,000 movie that grossed $40,000 and "Inception" in 2010, a $160 million movie that grossed $800 million worldwide, only have 11 years separating them.  The director's latest "has been successful on its own terms, not on Hollywood's," Hammond said by way of introduction.  It's a good way to put it.
Nolan actually spent plenty of time in Santa Barbara as a kid growing up.  The last time he was in the Arlington Theatre was the opening weekend of James Cameron's "Aliens" and he was happy to see such a grand movie palace still alive and well.  Hammond eventually tried to needle some news regarding "The Dark Knight Rises" out of the director, but to no avail.  There were a few enlightening bits, like the fact that Steven Soderbergh seems to be largely responsible for kick-starting Nolan's career because he helped land him his gig on "Insomnia" and, therefore, his relationship with Warner Bros.  (Soderbergh also suggested the ultimate fate of that film's main character.)  But mostly, it was just another solid chat.
The conversation covered all bases, with clips from each of his seven films tossed in, all of them well-selected, I might add.  There was the opening, mood-setting sequence of "Following," Natalie's "remember her" scene with Leonard in "Memento," Will Dormer's tragic moment in the fog that sends the events of "Insomnia" in motion, the ice-sparring sequence and battle of wills between Bruce Wayne and Ra's al Ghul in "Batman Begins," Alfred Borden's final prison good-bye in "The Prestige," another battle of wills, this time between the Joker and Batman in "The Dark Knight" and Ariadne's dream training in "Inception." With the exception of the latter's centerpiece city-bending effects moment, all quiet scenes, all character-based.  It's very much at the heart of what Nolan is trying to do as a filmmaker: tell stories of "human frailty," as DiCaprio later put it, amid the rush of blockbuster entertainment.
I once again Tweeted the evening with quotes aplenty, so I'll leave it to those to convey the experience.  But after the tribute, Nolan swung by the after party (a bit of a rarity for him) and weathered the well-wishing for a spell.  I got maybe 10 minutes with him and his lovely wife (and producing partner) Emma (who remembered the last time we met I was debating with Aaron Eckhart whether Two-Face was dead or not at the end of "The Dark Knight").
Nolan didn't have much to say about the directors snubbing him again.  After all, the film has eight nominations and he has two of them, so it's difficult to complain.  Plus, he noted, he's been nominated by the DGA three times without a corresponding Oscar nod.  "I'm used to it," he said.
One thing was sticking in my head from the evening's conversation, though, and that was the idea of Nolan at the Independent Spirit Awards 10 years ago with "Memento." Is it even fathomable that he'll ever be at that show again, given the massive scale his brand of cinema has come to represent?
"It depends on the story, really," he said, predictably (as that's exactly what Thomas said he'd say).  "I tend to think that if you have the chance to do a big film, you should do it while you can.  I'm always worried maybe I won't be able to do a big film again."
Thomas, meanwhile, said she's always wondering if they shouldn't do something smaller again.  And frankly, after the dominance in the high concept, big budget realm as of late, it would be a brilliant creative stroke to pull back and work in those rhythms once again.  I have no doubt he'd nail another intimate piece because, at the end of the day, that heart still beats at the center of his large-scale work.
We also, by the way, discussed the Lee Smith snub, which was most surprising to Nolan.  "I thought he was going to win," Thomas exclaimed.  It really does remain perhaps the biggest head-scratcher of last week's announcement.
Tomorrow night brings the Montecito Award for "The King's Speech" actor (and newly crowned SAG winner, after that ensemble victory) Geoffrey Rush.
[Photo: Hollywood Elsewhere]