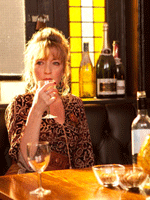 The race for Best Original Screenplay is full of worthy competitors this year.  Four Best Picture nominees and the year's best screenplay period make up the field, and even if there are a few that should have been in the mix, I find it difficult to argue with what squeaked through in the end.
The writing categories can sometimes be interesting to watch on Oscar night.  The Academy can mix things up, but only within the Best Picture landscape, as these awards have gone to a non-Best Picture competitor just six times in the last 20 years.  Nevertheless, all signs seem to be pointing to one film to dominate the show, and this category is no exception.
The nominees are:
"Another Year" (Written by Mike Leigh)
"The Fighter" (Screenplay by Scott Silver and Paul Tamasy & Eric Johnson; Story by Keith Dorrington & Paul Tamasy & Eric Johnson)
"Inception" (Written by Christopher Nolan)
"The Kids Are All Right" (Written by Lisa Cholodenko & Stuart Blumberg)
"The King's Speech" (Screenplay by David Seidler)
Pretty solid on the whole.  The only unfortunate thing to me is that the excitement over a potential surprise can't be aimed toward the one script that deserves it above the competition.  Which brings me to…
Leading into the nominations announcement, it was beginning to look like "Another Year" had not caught on in time to register at all.  Lesley Manville had come up wanting throughout the season and the film didn't have the best showing with the BAFTA, but the writers branch of the Academy has spoken up for Mike Leigh consistently over the years.  He managed to pull off a nomination for "writing" one of his most mature, thoughtful and astutely crafted films to date.  But he's also facing stiff competition in the form of four Best Picture nominees, so that's like all she wrote.  Nevertheless, Leigh found textures and profound rhythms that the other contenders in the field could only have hoped to achieve, so it's rather a shame that his nomination will, yet again, have to serve as his reward.
One film that began to catch fire within the Academy the last two months is "The Fighter," even moving into a competitive position with the year's two frontrunners.  The screenplay, from credited writers Keith Dorrington, Eric Johnson, Scott Silver and Paul Tamasy, clearly bears the scars of extended development with a lot of cooks in the kitchen, so it's rather incredible that it came out as complete and organic as it did (though plenty of that credit is owed to the film's director).  Being a Best Picture nominee is always a plus in the writing categories, and it can frequently be a great place to reward a film that doesn't really compute for voters in other fields.  But there are at least two contenders here that are more likely to walk away with the statuette than this scrappy underdog, I'd say.
Poor Christopher Nolan was once again slighted by his fellow directors this year, but his writing peers saw fit to extend a second nomination his way.  And when you think of the accomplishment that is "Inception," it's more striking to note a single name on its screenplay rather than scores of ghost writers and re-writers and script doctors, as is the tendency of blockbuster Hollywood cinema.  That, in and of itself, is a statement.  Nolan's film gestated in his mind for over a decade and became an incredibly complex burst of high concept, ORIGINAL, creativity.  And this would be a lovely place to pay some respect that direction, but it's tough when you have the Best Picture frontrunner leading the way.  Regardless, Nolan is still in the early days of what will surely be a lengthy, well-rewarded career.
The spoiler I'd watch for in this field is actually "The Kids Are All Right," from Stuart Blumberg and Lisa Cholodenko.  In many ways, it's a classic Best Original Screenplay winner, affording a chance to award comedy and send a bit of a social statement on Oscar night.  The film has seen a long road to this moment, beginning way back in Park City, Utah in January of 2010, and remains a favorite in the Academy.  And after last year's shocker in the Best Adapted Screenplay field, I'm not willing to call these races over no matter how bright the writing may appear on the wall.  Despite personal misgivings about the judgment leveled toward one character, I'm comfortable considering this a thoughtful script that really nails intimate relationships in a unique way.  It would make a handsome winner.
But in all likelihood, David Seidler, after years of working, will look like an overnight success in about a month's time.  "The King's Speech" was an incredibly personal journey for him, as he once suffered from stammering himself and saw in the story of King George VI a chance to tell a lovely tale of friendship and overcoming a profound obstacle while tapping into the insight of his own experience.  He came up with a wonderful showcase for actors and a story that brings audiences to their feet in applause.  And in so many ways, it's a classic Academy yarn.  But it's also one worth cheering for despite the cynicism that has accompanied the late stages of this Oscar season.  Once again, I'm not willing to stick a fork in either of the races when the Academy can be as frisky as it was last year, but it feels right.
Will win: "The King's Speech"
Could win: "The Kids Are All Right"
Should win: "Another Year"
Should have been here: "Four Lions" (in lieu of "A Prophet," which was not eligible)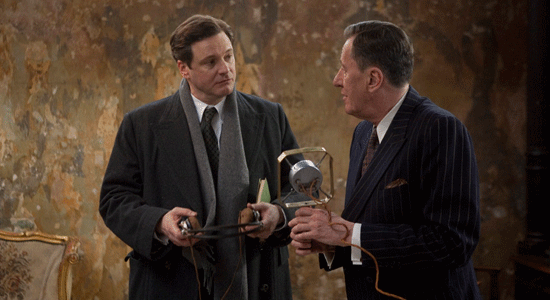 Check out my current rankings for this race at its dedicated Contenders page here.
Who do you think deserves to win the award for Best Writing (Original Screenplay)? Have your say in today's sidebar poll!
[Photos: Sony Pictures Classics, The Weinstein Company]