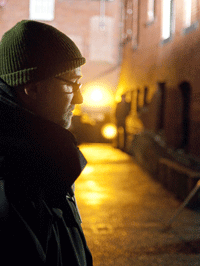 It's not really a question anymore, is it?
I submit that, quite possibly, it never was.  Unfortunately, the shrieking in some quarters this year, under cover of "fighting the good fight," has led to a mocking at the very notion that any film other than the critics' champion could win the Oscar for Best Picture.  It's been unnecessarily nasty in that way.
At the end of the day, it really goes beyond critics vs. the Academy, though.  It comes down to micro vs. macro, I think.  The critics organizations are a bunch of tiny groups of people.  Get 5,000, 6,000, 10,000 people together, the odds begin to favor "The King's Speech." It's simply the film that survives the scrutiny of a broader spectrum of opinion.  "Most generally agreeable."  It always was.
The unfortunate thing now — and if you're watching, some are already doing an about face on their own positive opinion of Tom Hooper's film — is that the fallout will be insufferable.  Suddenly "The King's Speech" will be a blight on Academy history and that talking point will be regurgitated ad nauseam.  It already is.  And that's just sad, because it's a very good film that doesn't deserve to be taken to task in the wake of another film's failed (and overstated) awards season expectations.
And "The Social Network," a pristine film that succeeds quite wonderfully at nailing the goals for which it aims, never deserved the burden of having that kind of hyperbole thrust upon it in the first place.  It started with a sexy Peter Travers quote that spawned a talking point bonanza.  But there was never any "there" there.  You can't just will it to be.  We won't know what film defined this generation for quite some time, I'm guessing.
But we live in a world where a film can't just be what it is.  Yes, we cover the awards season here, a time of year that has most certainly yielded that unfortunate state.  But I'll go back to last week's column: The Academy is just a group of people with something to say on the matter.  And so are you.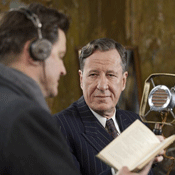 Following wins from the PGA, DGA and SAG (where the film took the ensemble prize last night), "The King's Speech" is set to run the table.  Some feel like there is still a chance for David Fincher to be rewarded on Oscar night, even if it's admittedly a much smaller chance than it was 48 hours ago.  But I wonder what logical reasoning there is to that.  This isn't a case of "Chicago," I don't think.  And it's barely a case of "Traffic."
At the end of the day, The Weinstein Company could net seven, maybe even eight Oscars for its pony.  More would seem a stretch, but who knows?  And it has played things out perfectly.  There's a reason the film went wider in theaters this weekend (and did quite well at the box office, yet again).  It's classic long-play Harvey.  And it all started at that first, wildly successful screening in Telluride.  The film simply continues to be the one that brings audiences to their feet.
Meanwhile, the whole playing field, same as it ever was.  The films that live in your veins as film lovers — the "great" cinema — they aren't meant for the Oscar race.  They're meant to be discovered, entirely, on their own merits.  They don't need the Academy — or, certainly, a group of critics — to tell you they're great.  They need only be what they are.  And shame on anyone who wants to disrespect and begrudge another film its awards success when none of it really matters in the first place.
That having been said, I'll submit a shrewd comment from reader Samuel over the weekend:
For a bit of perspective – The King's Speech is the fourth highest rated film in the Oscar ten on Metacritic. Behind Network, Toy Story 3 and Winter's Bone. Its 88 is, from memory…a very good score in the scheme of previous [Best Picture] winners. It's better than "Slumdog," "The Departed," "Chicago" and "Million Dollar Baby."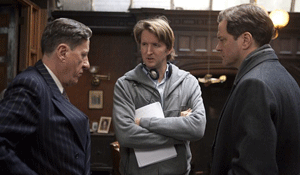 "The King's Speech" is no dog.  It's not "Masterpiece Theater" in some pejorative sense.  It's not some embarrassing "Around the World in 80 Days" call that makes the Academy look foolish.  And the Academy is not missing the ball by leaning in that direction, not least of all because "The Social Network," with its classic storytelling, just doesn't represent the new guard, in my opinion, nor is it an undeniable new classic in the mold of "Raging Bull" or what have you.
I was invited onto Film School Rejects' weekly podcast yesterday to discuss the Oscar season, and Cole Abaius asked me, "Why do we care so much about the Oscars?  Why do we keep coming back?"  My submission was that it's the desire for validation.  We want our opinions reflected in what is supposed to be the grand awards exhibition of the year.  And so, some would have AMPAS rise to a certain "standard."  But that standard is inherently subjective, too.  And I can only imagine that desire for validation is what leads to such passion about these things.
But here's the point: You don't need that validation.  You shouldn't even yearn for it.  Get in on the joke and live to watch another day.
The Contenders section is pretty close to what it was in the wake of the Oscar nominations last week.  There have been some tweaks here and there, but there's not much to say at this point.
[Photos: Columbia Pictures, The Weinstein Company]