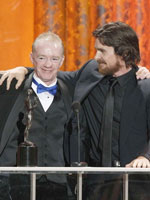 Well, if you didn't get the message after last night's DGA result, SAG's Best Ensemble award just underlined it for you — the Best Picture race is over. In the 16 years that the three Guilds have co-existed, only one film has taken the big prize from the DGA, PGA and SAG and not won the Best Picture Oscar — and "Apollo 13" was handicapped by its lack of a Best Director Oscar bid. No such obstacle in this case: "The King's Speech" has it in the bag.
So, it seems, do a couple of other folks. It was a highly predictable night, as the de facto frontrunner prevailed in each of the four individual acting categories.
Colin Firth, of course, continued his march to the Oscar podium with another impeccably wry, self-deprecating speech — "I'd like to thank security for letting me into the building," he quipped, earning the night's biggest laugh. With his victory, "The King's Speech" becomes the first film to take Best Ensemble and a lead acting gong since "Chicago" eight years ago; this time, however, it won't lose the latter on February 27.
Meanwhile, Natalie Portman continued her smooth run in the Best Actress race. Some pundits, Kris included, have speculated that Annette Bening could yet be a spoiler on Oscar night, but I can't see it myself: if a wave of sentimental affection for the older star is brewing, the peer-voted SAG Awards would have been the clear place for it to emerge. Portman continues to be the personification of charm at the podium, while her category is looking like the only viable place for Oscar voters to acknowledge the "Black Swan" phenomenon.
If a sweep mentality takes hold for "The King's Speech," I suppose one of the supporting categories could be vulnerable to an upset, but after tonight's well-deserved twin wins for "The Fighter" co-stars Melissa Leo and Christian Bale — both repeating their Golden Globe and Critics' Choice victories — there's little reason to bet against them at the Oscars.
Both actors socked over their acceptance speeches, with Bale (shorn of the Jesus-like mane he sported at the Globes) continuing his genially goofy stage manner and sharing a sweet moment at the podium with the real-life Dicky Ekland. Leo provided the most emotional speech of the night, culminating in a rallying cry for unions.
No alarms and no surprises, then — but why should there be? It was clear from the reaction in the room (especially to the final category) that the winners are universally popular choices, spread across three of the most beloved films in the Best Picture race. "The Social Network" table, on the other hand, was a solemn-looking one: they know when they're beaten.
No televised precursors until the BAFTAs, then, and I think we all know more or less how that's going to go. Good night, all.
You can find the full list of film winners at The Circuit.  And the TV awards, for those of you who are interested:
Best Actress in a TV Movie or Miniseries: Claire Danes, "Temple Grandin"
Best Actor in a TV Movie or Miniseries: Al Pacino, "You Don't Know Jack"
Best Ensemble in a Comedy Series: "Modern Family"
Best Actress in a Comedy Series: Betty White, "Hot in Cleveland"
Best Actor in a Comedy Series: Alec Baldwin, "30 Rock"
Best Ensemble in a Drama Series: "Boardwalk Empire"
Best Actress in a Drama Series: Julianna Margulies, "City Island"
Best Actor in a Drama Series: Steve Buscemi, "Boardwalk Empire"
Best Stunt Ensemble: "True Blood"
[Photo: Reuters]