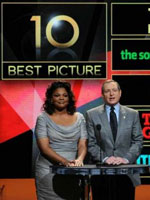 • In case you've just emerged from a coma, "The King's Speech" led the Oscar nominations on Tuesday with 12 bids.
• "The King's Speech" was also the surprise winner at the Producers' Guild Awards, drastically shaking up the Best Picture race.
• In the wake of these developments, Kris adjusted his winner predictions accordingly.
• In a special mid-week edition of Oscar Talk, Guy and indieWIRE's Peter Knegt joined Kris and Anne to break down the nominations.
• Guy put his happy face on as he rounded up his personal highlights of the nomination list.
• In Tech Support, Gerard gathered his thoughts on the below-the-line nominees.
• We launched our annual Oscar Guide feature, sizing up (and inviting your thoughts on) the Best Supporting Actress, Best Animated Feature and Best Original Song races.
• If you're wondering how we did, Off the Carpet collected Kris and the team's final nominee predictions.
• Veering far from the Academy's choices, Guy compiled his own two-part ideal nominee ballot.
• Two days before clocking up her second Oscar nod, Best Actress frontrunner Natalie Portman also topped the US box office.
• While people continue to debate the social significance of "The Social Network," we considered the accusations of factual distortion being levelled at "The King's Speech."
• And on a happier note, we celebrated an overdue first Oscar nomination for actor Mark Ruffalo.
[Photo: Oscar.com]