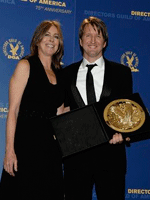 Even after "The King's Speech" surprised at the Producers' Guild Awards and took a dozen Oscar nominations, I held on to the notion that critical favorite "The Social Network," a film more in line with the Academy's recent choices, would emerge victorious on Oscar night.
However, Kris called it right. When the former film's comparatively inexperienced director can beat a heavyweight field of Darren Aronofsky, Christopher Nolan and the Davids Fincher and O. Russell to the Directors' Guild prize — and for a film that's widely been deemed, rightly or wrongly, an actors' showcase more than a director's one — it's clear the tide has turned. It pains me to say it, folks, but the stammering-royal drama is your Best Picture winner.
That said, I'm not willing to hand Hooper an accompanying Best Director Oscar just yet. Although the Academy and the Guild have parted ways in this category just six times in 64 years, their last such disagreement strikes me as a pertinent one.
In 2002, freshman director Rob Marshall won at the DGA for runaway Best Picture frontrunner "Chicago," leaving still-unawarded veterans Martin Scorsese and Roman Polanski on the sidelines. The Academy, however, wasn't quite so welcoming to the newcomer: his film still emerged triumphant in the big race, but Polanski pipped him to the post.
Will the Academy be similarly reluctant this year to let the Best Picture juggernaut sweep its helmer to the podium ahead of four more seasoned (and three more due) filmmakers? I imagine they might be, but perhaps my vision is just clouded by my own personal bewilderment at the turn the race has taken. I'm no "Social Network" die-hard, but I think it'd be a shame to deny a filmmaker as significant and substantial as Fincher a career-crowning Oscar for such a universally approved vehicle, least of all in favor of a directorial achievement as modest as Hooper's. But that's me. Clearly industry folks feel differently.
Is the year's most acclaimed film really going to wind up with just a writing Oscar to its credit? Even "L.A. Confidential" managed more than that.
In other news, it was no surprise that Charles Ferguson took the Guild's documentary award for "Inside Job" — though with only a two-film overlap between the DGA's and the Academy's nominees in this category, it's not the most conclusive of Oscar bellwethers. (Fun fact: in 20 years, just two DGA-winning docs have gone on to take the Oscar. Last year's "The Cove" was one of them.)
Meanwhile, here's some cold comfort for "Shutter Island" fans: Martin Scorsese just won his second DGA gong… for "Boardwalk Empire."