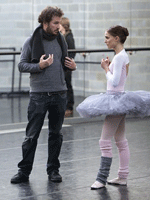 I nearly forgot tomorrow brings the DGA awards.  I thought they were next weekend.  Anyway, I guess this can be your place to offer up predictions.  I'll say this, though.  I don't think David Fincher has this in the bag.  At all.  Ballots were due in today, by the way, which means the Oscar nominations could have an impact.  Maybe last minute voters want to spring for Christopher Nolan after he was unceremoniously snubbed by the Academy?
Fincher's dominance in the critics awards circuit is unmistakable.  But now you're talking about 10,000 people rather than a 30-person media organization (and, in most cases, much smaller than that).  "Inception" is a populist film, but so, too, is "The King's Speech." And I think I'm just brazen enough to predict Tom Hooper to win.
Yep, I am.  I think Darren Aronofsky deserves it above all comers, but that's unlikely.  And Fincher would be my second pick.  He could well win, and "The Fighter" could take the SAG ensemble prize, blowing the race wide open (for some).  But no, I'm going to put my chips on a sweep for "The King's Speech" that started with PGA, will continue tomorrow night and keep going through Sunday with an ensemble win.  What about you?
[Photo: Fox Searchlight Pictures]