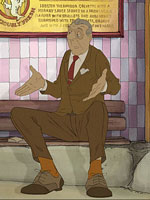 Thanks to reader Graysmith for pointing out this Hollywood Reporter piece, in which Tim Appelo poses the semi-annual small-beats-big argument about the Oscar nominees. To this end, he points to the Best Animated Feature category, where bijou art film "The Illusionist" beat out major money-spinners "Tangled" and "Despicable Me," and gets this quote from understandably overjoyed Sony Pictures Classics chief Michael Barker:
The Illusionist won against those big studio pictures. Not one pundit predicted it. This is animation done the old-fashioned way, without CGI, like Disney did.
Ahem. And just so I'm not tooting my own horn, Steve Pond, Nathaniel Rogers and Sasha Stone, among others, saw it coming too. Make no mistake, Sylvain Chomet's film was an underdog — and that narrative suits it nicely — but it didn't exactly fall from the sky either. I'm really happy for you, Mr. Barker, and immalitchoofinish, but give us pundits some credit.
[Image: Sony Pictures Classics]