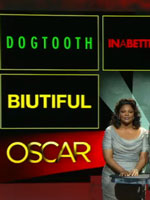 For those of us who like to make wholly informed decisions when entering our Oscar pools, the Best Foreign Language Film category can be a bit of a thorn in the side. Unless you're a particularly well-travelled festivalgoer, it's mighty difficult to see all five nominated films ahead of Oscar night.
This year is no exception, as two of them — the arguable frontrunners, "In a Better World" and "Incendies" — aren't opening Stateside until April, while double-nominee "Biutiful" continues to creep out in limited release. The other two have been and gone in US theaters, but unless you're lucky enough to live in one of a select few cities, chances are you didn't see "Outside the Law" or "Dogtooth" either.
Thankfully, for the latter film, Nexflix has come to the rescue. Yorgos Lanthimos's disquieting adult fable, which has received perhaps the most significant publicity boost in the wake of its eyebrow-raising nomination, is already out on DVD, but curious awards-watchers can now watch it instantly on the streaming site — simplifying at least some of your homework in that category.
Not that that's the only reason to check "Dogtooth" out: it's one of the best films nominated in any category at this year's awards. Even if you don't agree, it's not an experience you're likely to forget in a hurry — I was interested in Steve Pond's observation that the film perhaps benefited from having its final committee screening before the voters retired for dinner, whereupon it proceeded to dominate mealtime conversation, gaining appreciation all the while. It's that kind of movie.
So, if you still don't know what the fuss is about, hurry off to Netflix. Then come back and tell us what you think. I'm genuinely interested to know how this odd-duck nominee goes down. (Since a couple of you have asked, my own brief take, from way back in October 2009, is here.)
[Image: Oscar.com]