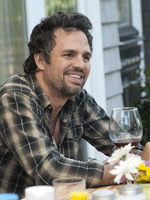 Amid the assorted geeky stat-studies I made in the wake of yesterday's Oscar nominations, I noticed that it hasn't been a vintage year for first-time nominees in the acting categories. Of the 20 actors selected, 12 are repeat nominees — the highest number since 2002. But among the eight thesps making their Oscar debut are some very gratifying choices indeed.
The unusually robust Best Supporting Actor category is particularly pleasing in that regard. It's always cheering when a long-serving character actor identified by most moviegoers as "oh, that guy" finally gets the spotlight, so amid the range of reactions to yesterday's news, I haven't heard a single person who isn't happy for John Hawkes — an actor who deserved more individual plaudits than he got for his 2005 lead turn in "Me and You and Everyone We Know."
And Christian Bale's high-end choices and hard-graft technique placed him on many an Oscar-watcher's "overdue" list, so I'm glad he finally got the nod for what I regard as his finest hour.
But if there's one nominee for whom I'm happiest, it's Mark Ruffalo. The kind of natural, relaxed screen presence who makes it look so easy that awards voters rarely notice the skill at play, Ruffalo has stood frustratingly on the brink of such recognition for an entire decade. As it stands, his first Oscar nod has arrived precisely 10 years too late: his nervy, humane breakthrough turn in the indie sleeper "You Can Count on Me" should have been a slam-dunk in the Best Actor category, particularly since his equally wondrous co-star Laura Linney was acknowledged. Alas, the Academy's curious bias against male newcomers kept him on the outside looking in.
That performance should have ushered in a plethora of similarly strong leading-man showcases, but it didn't quite turn out that way. Rather, Ruffalo carved a niche for himself as a failsafe ensemble player in classy projects like "Eternal Sunshine of the Spotless Mind," "Zodiac" and "We Don't Live Here Anymore" — impeccably serving the films, but rarely drawing attention to himself.
When he did seize the screen, unfortunately, it was as the lone virtue of the dismal prestige failure "Reservation Road." He was similarly outstanding as the sexually persuasive cop in "In the Cut," but critics and audiences alike didn't give Jane Campion's erotic thriller a chance. He again played successfully against type in "What Doesn't Kill You" two years ago — and again, no one was watching. People did see his pair of delightfully game romcom turns in "13 Going on 30" and "Just Like Heaven" — the kind of trickty above-the-material work critics so easily take for granted.
So what a relief that, in "The Kids Are All Right," Ruffalo finally found himself in a well-seen, well-liked vehicle that still gave him some room to flex. His performance as an unwitting biological father, genially breaking up a happy family almost despite himself, may not be his finest work, but it's a consummate demonstration of his actorly strengths: his sincere nonchalance, his dry humor, his ability to find discomfiting subtext in casual exchanges.
It is, in many ways, such a Ruffalo Ruffalo performance that I never stopped worrying the Academy would find it too effortless for their tastes, however many precursor mentions he racked up. I'm thrilled, then, that he's finally in the Oscar club — he won't win, of course, but the clearing of this hurdle means industry types might now pay more attention to his future good work. When Mo'Nique read out his name yesterday morning, I responded more with a sigh of relief than a loud cheer: for this most easygoing of stars, it seemed the more apt reaction.
[Photo: Focus Features]