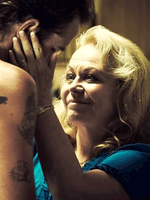 Like last year, this year's Best Supporting Actress race was a free-for-all when it came to the last spot.  Potential category confusion almost had two spots up for grabs.  And there was absolutely no shortage of possible spoilers once the BAFTA had spoken up with a slate of formidable possibilities.
And great work was still left off the ballot.  Mila Kunis was on track to score, but ultimately fell short.  Veterans Barbara Hershey and Miranda Richardson seemed to be making a play for recognition, too.  In the end, an early campaign made all the difference for one indie contender, while another young hopeful managed to keep her grip in the supporting ranks despite giving a lead performance.
The nominees are:
Amy Adams, "The Fighter"
Helena Bonham Carter, "The King's Speech"
Melissa Leo, "The Fighter"
Hailee Steinfeld, "True Grit"
Jacki Weaver, "Animal Kingdom"
Unlike last year, however, this field anything but decided.  The neck-and-neck nature of the race will naturally make it one of the most interesting ones to follow throughout the second phase of the awards season.  And for the most part, it's difficult to argue with this field.
Amy Adams wasn't at the top of too many lists going into the season, if only because word was that her co-star, Melissa Leo, had a juicier role and stole the show.  But ultimately what we got out of Adams in "The Fighter" was something we've never seen before, and a head-spinning portrayal as a result.  Eschewing her bright-eyed good-girl persona for a tough-as-nails Lowell bartender with a heart of gold, the actress couldn't have been more surprising.  Racking up her third nomination in just five years, Adams has proven her range with this performance, one that actually outshines her co-star if only because she gives what could have been merely a plot device character a natural complexity and a vigorous hidden spirit.  I'd keep my eye on her for a potential shock on Oscar night.
One film that clearly had the Academy's heart this year was "The King's Speech," which hauled in 12 nominations across the board.  One of them has been considered a good bet since day one, perhaps less due to the merit of the work than the expected coattail ride on a front-running contender.  But what Helena Bonham Carter does in the film really shouldn't be undercut by the realities of an awards season.  She adds a delicate humor and balance to the piece and provides, in fact, an emotional anchor for Colin Firth's King George VI that is hardly a phoned-in portrayal.  Not every performance is meant to be breathless, after all, and the grace of simplicity is as difficult to master as the usual intense emoting that earns accolades.  As a result of love for the film, she could be a spoiler.
The frontrunner going into the race is clearly Melissa Leo, who flies off the rails in "The Fighter" in such a way that demands attention and tends to earn awards.  It's a showy performance which chews the scenery, but the irony is Leo (and the other actors tasked with portraying colorful characters) actually held back a bit.  The Ward family is actually MUCH more colorful.  But Leo has lapped up a Critics' Choice Movie Award and a Golden Globe already.  She may well take the SAG prize, too.  But even that kind of haul wouldn't seal the deal, I think.  There are a lot of textures to this race, and one of them is the idea that Amy Adams could pull attention away from Leo as the circuit moves forward.  Nevertheless, the safest place to put your chips is right here.
There was a lingering possibility going into this year's nominations announcement that Hailee Steinfeld would receive enough lead actress votes to either land her in that category or divide her potential altogether, leaving her out of the mix.  Thankfully she made it, even if it's in the wrong category.  In "True Grit," this first-timer really lit up the screen opposite some of the industry's most respected actors.  She commanded unique language and cranked out a persona of unflinching justice and honor, giving a fully realized portrayal that felt entirely authentic.  As a result, and considering the healthy nomination haul for the film, I think she could be a spoiler to watch for on Oscar night.  To say nothing of the fact that she drives so much of the film, she simply makes for one of the best narratives of the season.
Rounding out the category is the spot which seemed to be up for grabs.  Ultimately it was Jacki Weaver who nailed it down for her eerie portrayal of a mild-mannered Lady McBeth in the Aussie drama "Animal Kingdom." Weaver's campaign got off on the right foot as the film was one of the first screeners to hit voters' doorsteps.  She pulled off a National Board of Review win at the start of the season and boy, those T-shirts were all the rage.  It's understandable why actors gravitated to her work as the subtlety is intriguing and the character is fascinating.  But I never felt that Weaver lifted it off the page and gave it a life that wasn't already inherent.  Nevertheless, who could begrudge her her success?  She's in the club now after working hard for years, but the nomination will likely be her reward.
Will win: Melissa Leo, "The Fighter"*
Could win: Hailee Steinfeld, "True Grit"
Should win: Hailee Steinfeld, "True Grit"
Should have been here: Lesley Manville, "Another Year"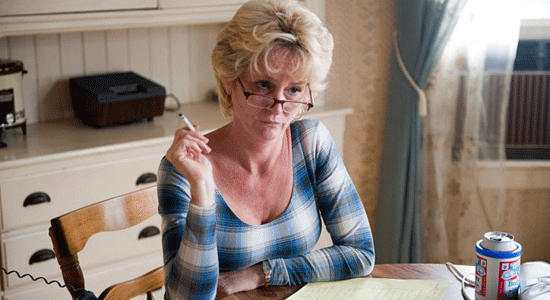 Check out my current rankings for this race at its dedicated Contenders page here.
Who do you think deserves to win the award for Best Supporting Actress? Have your say in today's sidebar poll!
*This prediction updated 2/24/2011.
[Photos: Sony Pictures Classics, Paramount Pictures]