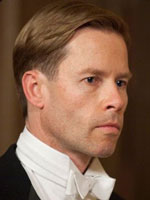 Unless you really haven't been paying attention, you'll have noticed by now that a few people have taken issue with the history lesson given by "The King's Speech." Or more specifically, with the one not given: that George VI supported British PM Neville Chamberlain's policy of appeasement towards Adolf Hitler, while his brother Edward VIII was an outright Nazi sympathizer, none of which is acknowledged in the film.
Writing for The New Republic, Isaac Chotner took the film to task both for "grossly misrepresenting real events and people" and for shortselling its own dramatic potential through these omissions, while none other than Christopher Hitchens raised the same issue in a recent Slate essay, damning the film as "a major desecration of the historical record."
Whatever my own issues with the film, its historical filleting hasn't been high on the list. As much as I think the gray political alliances of the Royal Family would make for a far richer narrative, the bottom line is that screenwriter David Seidler was more interested in George VI's personal struggles — as a dramatist, it's his right to frame the story as he wishes, free of the obligation to furnish the audience with every historical detail.
Yes, the film rather blandly romanticizes the Royal Family — at a time, conveniently enough, that ties in with many viewers' sympathies toward the upcoming royal nuptials — but only inasmuch as any writer is permitted to form his own relationship with his characters.
The conversation around this issue has been tetchy — particularly in the heat of Oscar season, with the looming threat of smear campaigns à la the "A Beautiful Mind" controversy of 2001. So I appreciated the more even-handed perspective of historian and film buff Alex von Tunzelmann, whose Reel History column in The Guardian is a weekly must-read. Acknowledging the film's inaccuracies great and small (ranging from Guy Pearce's too-posh accent to a misleading portrayal of Winston Churchill's royal loyalties), she ultimately permits Seidler artistic license while downplaying the monarch's own error in judgment:
True, it could have made more of George VI's support for Chamberlain… But shoehorning a whole load of heavy stuff about the royal family's many political imperfections into The King's Speech would not have advanced the film's theme of Bertie's private struggle with his public role. Leaving it out, meanwhile, is not the most offensive of cover-ups. The extent of the scandal is that the king supported Chamberlain – a regrettable misjudgment, but a common one at the time. And, anyway, he wasn't the sharpest tool in the box. He came 68th out of 68 in his final examinations at naval college. Portraying Bertie as an appeaser also wouldn't have helped audiences like him – but the truth is sometimes inconvenient like that.
Good piece; read the rest here. Meanwhile, I doubt Academy members are thinking too hard about this.
[Photo: The Weinstein Company]