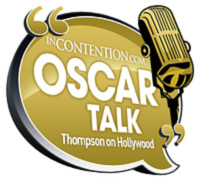 Welcome to Oscar Talk.
In case you're new to the site and/or the podcast, Oscar Talk is a weekly kudocast, your one-stop awards chat shop between yours truly and Anne Thompson of Thompson on Hollywood. The podcast is weekly, every Friday throughout the season, charting the ups and downs of contenders along the way. Plenty of things change en route to Oscar's stage and we're here to address it all as it unfolds.
Unless you've been under a rock this morning, you're aware of the day's big news. Oscar nominations were revealed by the Academy of Motion Picture Arts and Sciences in 24 categories. And, as is typically, there were enough eyebrow-raisers to give us a ton to talk about. We've got IC's own Guy Lodge and indieWIRE's Peter Knegt on board. Also, it's our 50th episode! Let's see what's on the docket today…
• The first shocker of the morning's announcement was the lack of Christopher Nolan in the Best Director line-up.
• Being in Park City with Anne, Peter points out that last year's Sundance field had a strong showing in this year's Oscar line-up.
• "The King's Speech" brought in a massive haul of nominations, but is that enough to consider it the new frontrunner? We discuss.
• We also spotlight curious decisions throughout the acting fields that could be indicative of this or that.
• One of the strongest fields, we all agree, is the Best Documentary Feature category (where "Waiting for Superman" was an unexpected snub). Can Banksy win an Oscar?
• Also surprising for many was the inclusion of "Dogtooth" in the foreign film category. We talk about the possibilities of that race, as well.
• We run through all the categories with our predictions in each field (and Anne had to leave in the middle, but us dudes finished it up).
• And finally, reader questions. Guy, Peter and I answer a few of your pressing queries from this morning.
Have a listen to the new podcast below. It's a long one, and all over the place with four voices. If the file cuts off for you at any time, try the back-up download link at the bottom of this post. And as always, remember to subscribe to Oscar Talk via iTunes here.
[display_podcast]

Back-up download: Oscar Talk Episode 50