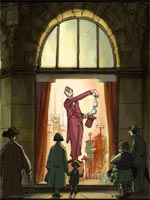 Even when they aren't being read out with gale-force enthusiasm by Mo'Nique, the Oscar nominations tend to attack you with breathless speed that you need at least half an hour to decide how you feel about them at all. As usual, this morning's announcement found me bouncing from one split-second reaction to another: Yay! No! What? That? Why? Who's missing? What did she say? That? No! Did I call that? Yay!
As Kate Winslet would say in such situations: "Gather." And now that I've stepped back, gathered and taken into account that no Oscar nomination slate in history has been without its disappointments, I can honestly say that I'm more happy than not with the list in front of me.
Some of the day's biggest surprises didn't elicit much of an emotional reaction from me. My eyebrows rose as high as anyone's over Christopher Nolan's latest failure to secure a Best Director nomination — is he the first man in Oscar history to fall three times at this hurdle after being DGA-nominated? — though I always said he couldn't be regarded as a sure thing.
A miss for "Inception" in Best Film Editing was even more stunning, but given my own reservations about the film's storytelling, it'd be disingenuous for me to chide the Academy on either count. (I'd rather see Nolan's film in either category than the drastically over-nominated "The King's Speech," mind, but that's the way the cookie crumbles.)
Prediction-wise, I scored better than I expected, calling 80 out of 107 nominees, and 39 out of 45 in the top categories. Most pleasingly of all, a number of my fifth-spot hunches in the acting categories paid off, as Javier Bardem, Michelle Williams and John Hawkes all found their way to against-the-odds nominations. (Shame my inkling about Hailee Steinfeld showing up in lead didn't pay off — for the Academy's sake as well as mine.)
When the smoke cleared, however, these were the seven chief reasons I was left smiling:
"The Illusionist" pulls it off: I never veered from my instinct that Sylvain Chomet's hand-drawn jewel (and my own favourite film of 2010) would land the third spot in the Best Animated Feature category, even as a curious precursor surge for "Despicable Me" gave me cause for concern. Ultimately, however, the Academy's animation branch proved that technique is their top priority.
"Dogtooth" bares its fangs: In retrospect, it was utterly insane to predict that a deranged, sexually explicit Greek fable featuring incest, cat butchery and assorted other forms of family fun would somehow lay claim to the title "Academy Award nominee" — but sometimes, if you want things badly enough, they happen. I do wish my long-predicted nomination for South Africa's "Life, Above All" had come to pass, but by fearlessly picking "Dogtooth," this branch has atoned for several years of milquetoast sins.
"Winter's Bone" scores one (or four) for the indies: Another on-the-fringes contender that repaid my loyalty this morning, Debra Granik's shoestring Ozark thriller scraped into the ten-strong Best Picture lineup, holding the flag aloft for authentic independent cinema with no big names to bolster its place in the race — and surprised a few pundits by carrying hardworking character actor John Hawkes to a deserved supporting nod too. With little guild support in its arsenal, it looks like critical veneration still counts for something in this racket.
Best Actress kills: By commendably standing up for Nicole Kidman and Michelle Williams's little-seen vehicles, the acting branch unveiled a true rarity: an acting category with no coasters, no fat and no filler. Just five gifted women at different stages of their careers, but all on peak form:  Natalie Portman will still cruise to an easy win, but a category this strong deserves to be more competitive.
The writers have Leigh's back: As with "Happy-Go-Lucky" two years ago, Mike Leigh's "Another Year" nearly slipped through the cracks with Oscar — as category confusion cost the wonderful Lesley Manville what should have been an easy get of a Best Actress nomination. Thank God, then, for the indie-friendly writers' branch, who once again boldly piped up for Leigh where no one else would (and at the expense of a Best Picture nominee, no less). This marks the still-Oscarless Leigh's seventh career nomination; alas, that number is unlikely to prove lucky this year.   
BANKSY!: Okay, I'm stealing Kris's war-cry here, and I doubt I can match his intensity in shouting it. (How neat that both our #1 films of the year found recognition in the ghetto categories.) Still, what a joy to see "Exit Through the Gift Shop," the year's most inventive, entertaining, shape-shifting documentary nominated — ahead of the much-favored but infinitely less engaging "Waiting for Superman" to boot. Proof (at last) that this branch has a sense of humor.
The costume designers are love: I anticipated a contemporary presence in the usually period-obsessed Best Costume Design category, but I never expected to it to come in the svelte shape of Italian arthouse darling "I Am Love," whose simple but boldly hued and immaculately tailored couture beat far flashier Guild nominees "Burlesque" and "Black Swan" to the punch. Nice to have some evidence that voters are paying attention to at least a few movies off the beaten awards track — and that my own dream ballot wasn't entirely in vain.
The bad? Frankly, I'm in too good a mood to dwell on my disappointments. Yes, as thrilled as I am for Williams, I don't think her nomination sits right without an accompanying bid for Ryan Gosling. Yes, I wish there was a little less "The King's Speech" (and a little more "Black Swan") in the technical categories. Yes, I wish the acting branch had taken it upon themselves to correct Hailee Steinfeld's plainly fraudulent categorization. Yes, I'm as baffled as anyone that more voters thrilled to the VFX work in "Iron Man 2" than "TRON: Legacy." And yes, I do mourn the missed opportunity to have Cher belting it out on Oscar night in the name of "Burlesque" — not least when the music branch managed to cobble together the most indifferent slate of Best Song nominees in memory.
But weighed against the "hell yes" moments listed above — not to mention other high points like Jacki Weaver's underdog-made-good nomination and an unusually stellar Best Supporting Actor lineup — I'm willing to chalk such qualms up to the nature of the season. There's plenty of drama to come on the Oscar trail. Now's not the day to start it.