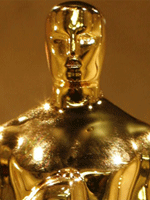 (UPDATE: Dave Karger reached out and noted that his picks for the screenplay fields were actually in the newsstand issue of Entertainment weekly, and that he got 10/10.  He is noted below, fine, but come on — is it so hard to put it online?)
I did some poking around in the usual corners to see how the pundits fared in predicting this year's nominees.  Not everyone predicted everything.  In fact, I think the only ones to predict all 24 categories, from what I can tell, were Nathaniel Rogers, Anne Thompson and myself.  And I'm happy to report I was tops in that range (nailing 92 of 120 nominees).  Anne got 91 correct and Nathaniel got 90.
I'm sure someone out there did better than me, so don't mistake that for gloating.  I'm just happy I was right on "Salt" in Best Sound Mixing and "The Way Back" in Best Makeup.  The little things.
Anyway, speaking of Nathaniel, he did VERY well in the general eight categories that everyone predicts, correctly guessing 40 of 45 nominees.  As did Dave Karger (see note above).  But we all have to bow to Steve Pond in this arena, who missed just three nominees for an impressive 42/45 score.  Bravo.
I wasn't even good enough for third place there, as Anne, Sasha Stone, Brad Brevet and our own Guy Lodge each correctly guessed 39 of the 45.  Scott Feinberg is keeping me and my 38 company in fourth place, however.
Unfortunately most pundits stop with the top eight categories.  But more and more, people are branching out and taking stabs throughout the tech categories.  As best I can tell, that was my and Tech Support columnist Gerard Kennedy's time to shine.  We both went 82/105.  Brevet, Rogers and Lodge came in second there with 81 correct picks.  Feinberg, meanwhile, came in third with 78.
Hopefully my math isn't wrong on any of these.  I'm sure I'll be corrected swiftly if that's the case.  Lots of counting.  As long as the numbers hold up, I'll happily take my two gold medals, but I'm more pumped by a stellar slate of nominees with which, mostly, I'm having a difficult time arguing.
Top 8 fields:
Gold: Steve Pond
Silver: Dave Karger, Nathaniel Rogers
Bronze: Brad Brevet, Guy Lodge, Sasha Stone, Anne Thompson
24 feature fields:
Gold: Gerard Kennedy, Kristopher Tapley
Silver: Brad Brevet, Guy Lodge, Nathaniel Rogers
Bronze: Scott Feinberg
All 24 fields:
Gold: Kristopher Tapley
Silver: Anne Thompson
Bronze: Nathaniel Rogers
How did you do on your picks?
Related Posts