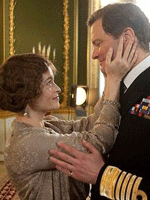 On the face of it, the nominees for the 83rd annual Academy Awards seemed fairly unremarkable. Aside from the deafening nature of not hearing Christopher Nolan's name in the line-up for Best Director (the only true shock of the major categories), everything seemed to be within the expected parameters (even Javier Bardem sliding in, which seemed, increasingly, like a very real possibility these last few weeks).
But then I got to looking through the craft category nominations and the real interesting beats started to surface. First and foremost, "The King's Speech" led the field with a whopping 12 nominations, even scoring in the Best Sound Mixing category. That's major, to say the least. And enough, along with the PGA win, to consider it the frontrunner to win the Oscar for Best Picture.
"True Grit" wasn't far behind with 10 nominations, including a bid for the Coen brothers in Best Director after all. Hailee Steinfeld stayed in Best Supporting Actress and Bridges was chalked up, but again, let me go back to the more intriguing crafts fields.
Like, oh, Best Film Editing? Where somehow, some way, Lee Smith was outright shafted for his immaculate construction of "Inception?" That, coupled with Nolan's directing snub, indicates to me that the film just didn't have the support we thought it did. I find myself wondering if it would have been one of five after all. But I don't want to overstate it, because the film did manage eight nominations.
I'm quite bummed that "Shutter Island" didn't register at all. Not a single nomination for some of the most amazing work above and below the line this year. Chalk it up to an early release and a timid push, I'd say. But the film did its job in the grand scheme. It made money.
My other underdog fave, "The Way Back," managed to score a nomination after all, and in the field I've been expecting for it since I saw it: Best Makeup.
I'm ecstatic for Mike Leigh's inclusion in the original screenplay field, though it came at the expense of "Black Swan" (which was starting to look shaky here as of late, if you asked around). The other screenplay field, adapted, was the only one that I nailed 100%. But I imagine many did.
One thing I did see coming was that sound mixing nod for "Salt." The mixing community really dug the work in that film and a last-minute screener mailing aimed strictly at the sound branch clearly did the trick. Congrats to Greg P. Russell on his 14th Oscar nomination.
Another shocker: "Waiting for Superman" was completely shut out. That means no nominations for Best Original Song OR Best Documentary Feature, the latter obviously being the shock as it was largely considered the frontrunner. I'm long on the record for thinking the film a bit less as a work of filmmaking than it is as a work of activism, so it's certainly how I would have nominated. I'm nevertheless surprised at the doc branch's individualism there. GREAT line-up this year.
Let's see. There a few more things to note by way of instant analysis before breaking away for a bit. Speaking of the original song category, it only had four nominees, and none of them were for "Burlesque." Instead, "Coming Home" from "Country Strong" scored.  Meanwhile, Alan Menken WOULD have tied Randy Newman for fourth-most-nominated-dude-still-living…if Newman hadn't chalked up #20 today, that is.  Now Newman joins Kevin O'Connell under Woody Allen and John Williams for third-most among those still upright.
And the biggest left-field pick (which put a smile on my face) might be "I Am Love" grabbing a nomination for Best Costume Design. How frisky of the branch.
"TRON Legacy" was snubbed in the visual effects field, which is worth noting.  And it was "Hereafter" rather than "Scott Pilgrim vs. the World" that took its place.  I heard there was snickering about the handling of the younger Jeff Bridges at the bake-off, but that shouldn't take away from all the other quality work on display in that film.  Alas.
Oh, and I'm happy that "Blue Valentine" saw some love for Michelle Williams, but I'd be lying if I didn't say I was saddened by the (however expected) exclusion of Ryan Gosling, who gave the year's best performance, bar none.
I went 92/120 in overall predictions, 82/105 in the ones most predicted (excluding shorts) and 38/45 in the top eight categories. Check out the full list of predictions at The Circuit. And stay tuned later today for a special edition of Oscar Talk with Guy Lodge and (hopefully) Peter Knegt joining in.  I'll also have the sidebar updated and a fresh set of winner predictions soon.
Wait, one last thing……BANKSY!
[Photo: The Weinstein Company]