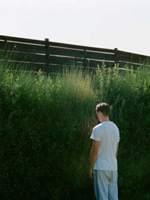 I've made one (and only one, lest I get carried away) change to my final predictions, FYI.  I think I'm going to switch my final foreign language pick from Algeria's "Outside the Law" to — wait for it — Greece's "Dogtooth." My former line-up didn't include one of the (perceived, as nothing is official) executive committee saves, and that would be a first (in the admittedly short history of the executive committee's existence).
Additionally, colleague Steve Pond reminded me that the final nominations selection committee tends to have more in common with the executive committee than the general committee (which narrows the field and later picks the winners).  Voting on the category took place after a series of screenings this weekend, so it's all rather fresh.  So I wonder about the scrutiny Algeria's entry has undergone vis a vis historical accuracy.
The Swedish hopeful is highly unlikely to make the cut, from the way I hear it, while no one has really seen the Japanese entry in order to gauge.  So I'll join Pond, as well as Guy, in picking an out-there selection for the fifth spot (not that it'll have a chance in hell at winning).  Hopefully last minute jitters won't get the better of me.
My final (for real, this time) picks are here.
[Photo: Kino International]