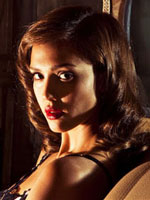 The Golden Raspberry (aka Razzie) Awards irritate me on an annual basis, largely because they're such a joyless, unimaginative and, worst of all, cowardly execution of a neat idea: singling out the worst cinematic achievements of the year for a bit of a ribbing.
Except they aren't about genuinely failed artistry nearly as much as they are about piling on whichever easy celebrity targets happened to have a film out in the past 12 months. They're intended as a bit of fun, obviously, but how fun is it really to beat up on tween idols like Miley Cyrus and the "Twilight" team? "The Expendables" isn't that ineptly directed — but hey, it's Sly, so it must be bad!
Wouldn't it be more subversive to aim at some higher targets who flubbed in 2010? (You'd think a "Worst Use of 3D" award would have been invented for "Alice in Wonderland," but no — works from prestige directors are above the law here, apparently.)
Anyway, this year, the Razzies' celebrity fixation has led them to nominating three fine performances as the year's worst: Cher's valiant vamping in "Burlesque" (which made my own Best Supporting Actress ballot), Jessica Alba's perfectly credible dramatic turn in "The Killer Inside Me" (did these dolts even watch the film?) and Jennifer Aniston's game salvage attempt on the otherwise dismal "The Bounty Hunter." The joke's on the Razzies, as far as I'm concerned.
Full list of nominees, if you care, at The Circuit. (UPDATE: Telegraph critic Tim Robey offers an excellent takedown of the nominations, complete with his own superior suggestions in each category.)
[Photo: IFC Films]