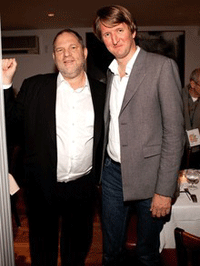 Two weeks ago, one of our readers, KevinK, asked the following question for Oscar Talk:
What do you think of the atmosphere that comes out of this late stage of the awards season?  I think the atmosphere is really toxic and really flies in the face of what we all care about in the first place: a love of film.
We didn't get to it on the air.  So I saved it.  Then Thursday, Guy touched on some profound textures in his final pre-nod column.  It was one of his best, a sound consideration of the posterity of an awards season above its pageantry.
The Yin and Yang of things is what struck me.  To Kevin's point, the environment around these films is more and more enhanced or diminished by steadily increasing media attention — this outlet being no exception.  He went on to note a well-regarded critic's perceived change of heart on one of last year's front-running contenders due to its consistent registration during the season, as if a virginal opinion had been sullied by the air of competition and acclaim.
And it happens, I think.  The awards season, more intense every year, warps perception, no question about it.  It builds hopes and douses them, never providing a level playing ground, and it can come to define efforts more than their singular artistic identities.  But at least it means well.
To Guy's point, the season is a chance.  So it can be an appropriate time for unbridled passion and endorsement to ring loud, because the stakes can be so high (whether you know it at the time or not).
Of course, like in any stage of a career, it remains up to the talent involved how to best utilize the attention and artistic fortune Oscar may grant.  The spotlight can be much more crucial than a bump in offers and pay.  It can be validation in the form of revelation, in the eyes of audiences and the industry alike.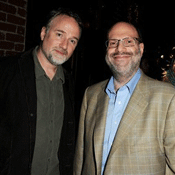 Not to put words into anyone's mouth, but if I were to boil both perceptions (which share the same thoughtful heart, I think) to an essence, I'd say Guy is arguing for a reason to care about all of this, while Kevin is arguing for a reason not to care.  If you don't care enough, great work stays buried.  If you care too much, great work is smothered.
What a dichotomy.  And if you were to ask me which side of that line (which, admittedly, I've conjured out of thin air by parsing two interesting arguments) I'd fall on, I'd say: "Don't care."
Maybe it's a perspective as in flux as anything else, but that's how I feel this year.  Because when I look at the movies in the thick of this Oscar hunt, I'm rather surprised at the consistency of quality.  It's fully subjective, naturally, but as I look to the sidebar and my final set of predictions, I'm struck by how difficult it is to argue with, like, 95% of the slate.  That's unique, to say the least…for me.
This season has become, behind the scenes, as dramatic as any other.  There is no shortage of money, ego and passion and the stakes, as always, are high.  But as neck-deep in the competitive frenzy as I've been these last five months, I've always had something in the back of my mind, something that hasn't really made its way through the punditry and analysis and commentary: "Damn, these are some good movies."
And they are.  The five frontrunners — "Black Swan," "The Fighter," "Inception," "The King's Speech" and "The Social Network" — are all such quality competitors to be debating in an Oscar season it's unreal.  The next tier down, all top-notch pieces of work — and still not totally representative of the year for me, as barely half my top 10 seems to be legitimately in the hunt for any Oscar notice at all.  But I like just about everything in play this year, so why haven't I spent energy on that?
"Why" indeed.  Maybe I finally figured out what 2010 was all about for me after all: missing the commendable forest for the competitive trees…one more time.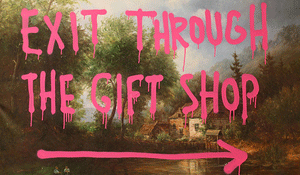 If you hadn't heard, the Oscar nominations are to be announced tomorrow morning.  Lots of hard work will pay off or it won't.  More DVDs will ultimately be sold.  More egos will be stroked.  But the films will still be the films.  They'll still have to speak for themselves.  And nothing Tom Sherak or Mo'Nique says tomorrow will change that.
THAT, I think, is the real truth, however naive it might sound.  After so many presentations throughout the circuit, it's another group of people with an opinion on the matter.  Well…so are you.
I've run a fine-tooth comb through every category in the Contenders section and come up with my final nomination predictions.  There is expanded commentary for each field and, as always, all changes are reflected in the sidebar to the right (including all 24 categories).  It's possible I'll spaz out and make some last minute adjustments tonight.  If I do, I'll let you know.  I've found it's usually best to settle and walk away from the table, though.
After tomorrow, we await the winners.  And on that, I have to say I'm feeling a little more interested in things after the PGA tossed a wrench into the works and upset the apple cart.  After being hammered into a position of defeat, not just by the awards circuit, but by endless, shrieking rhetoric, it's nice to see that my abandoned guns might — MIGHT — have been worth sticking to.
You can check out Gerard's final guesses (with alternates) here and Guy's here.  I have a similar page here.  On to the nominations.
My best to your favorites.
[Photos: Getty Images, Producers Distribution Agency]