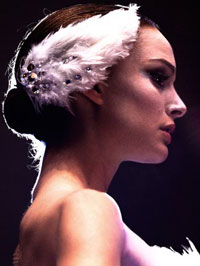 For the past two years running, I've celebrated Oscar Nomination Eve by assembling my own ideal (and, usually, incredibly far-fetched) ballot, so here we go again. As well as a kind of last-ditch prayer to the Oscar gods, I also look on it as a salute to the worthy contenders who haven't a hope in hell of hearing their names read out on Tuesday morning.
At the request of some readers, I've bent the rules to accommodate several titles unfairly ineligible for Oscar consideration in any category: most of you are aware of the arcane ruling that has denied "A Prophet" the chance to ever compete in a non-ghetto category, while the TV airings of "Red Riding" and "Carlos" keep them out of the game too. I'm less clear on why the likes of "White Material" and "Fish Tank" aren't on the Academy's list of eligible titles, but they aren't, and I must make my peace with that.
Anyway, screw 'em: this ballot represents what I found most awards-worthy from all the theatrical features released in the US last year, and you can't get fairer than that. I'll begin, as usual, with the ten technical categories — in which I was pleased to end up with a healthy spread of 33 films across 48 slots. Jump in after the cut, and share your own thoughts in the comments. (Also, check out Kris's very different ideal ballot here.)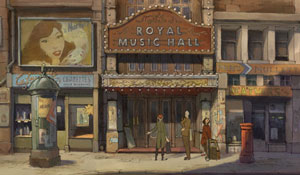 Best Art Direction
Silke Fischer and Volko Kamensky, "Everyone Else"
Bjarne Hansen, "The Illusionist"
Michael Barthélémy, "A Prophet"
Cristina Casali, "Red Riding: 1974"
Darren Gilford and Lin MacDonald, "TRON: Legacy"
Next tier: "Black Swan," "Carlos," "Dogtooth," "The Ghost Writer," "Shutter Island"
So much of my favorite production design this year was about space more than spectacle: I've already discussed the brilliance of the contained, contemporary work in "Everyone Else," while the vast, warren-like prison recreated for "A Prophet" is so impressive many don't realize it is art direction at all. The first chapter in the "Red Riding" trilogy, meanwhile, pays particular attention to texture and finish in its smeary evocation of working-class 1970s Yorkshire. But there's room for wonderment, too, in two very different forms: the sleek architectural minimalism of "TRON Legacy" and "The Illusionist"'s breathtakingly detailed moving watercolor of 1950s Edinburgh.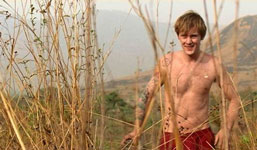 Best Cinematography
Matthew Libatique, "Black Swan"
Robbie Ryan, "Fish Tank"
Harris Savides, "Somewhere"
Christophe Beaucarne, "Outside the Law"
Yves Cape, "White Material"
Next tier: "Blue Valentine," "The Disappearance of Alice Creed," "Enter the Void," "The Fighter," "Lourdes"
A rich field this year, so much so that only one of the perfectly commendable field of Oscar contenders in the category entered the conversation for me. Libatique's ingenious use of Super 16 to participate in the performance of "Black Swan" finds a gritty Transatlantic counterpart in Ryan's fluid, on-the-fly shooting, which strikingly employs the unusual Academy ratio. By contrast, there's a lustrous vintage studio veneer to Beaucarne's classical compositions, while Cape's stately lensing of "White Material" lingers unnervingly on details of face and landscape alike. Savides, meanwhile, locates modest poetry in the severe California sunlight, a trick he also performed impressively in "Greenberg."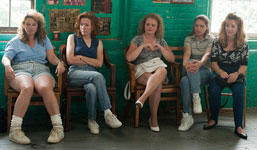 Best Costume Design
Amy Westcott and Rodarte, "Black Swan"
Brenda Broer, "Cairo Time"
Françoise Clavel, "Carlos"
Mark Bridges, "The Fighter"
Antonella Cannarozzi, "I Am Love"
Next tier: "The American," "Burlesque," "Inception," "Red Riding: 1974," "The Runaways"
Not a corset or hoop skirt in sight, as all the costuming that most wowed me in 2010 came either from recent history or the present day. Of the two period pieces on my list, I've already said my piece on Bridges's bang-on sartorial trip to the early 1990s, but Clavel's decades-spanning wardobe for "Carlos," so tangibly textured the film could be retitled "Blood and Polyester," is equally impressive. Of the contemporary selections, "I Am Love" and "Cairo Time" both intricately chart their leading ladies' sexual and emotional shifts through dress (and, well, dresses). Meanwhile, some may be fussing that Westcott didn't design the performance costumes for "Black Swan," but the fine gradations of color and cut in the characters' everyday clothing are no less remarkable.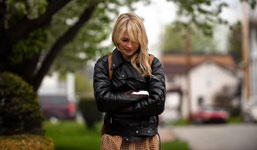 Best Film Editing
Jon Gregory, "Another Year"
Andrew Weisblum, "Black Swan"
Frederick Wiseman, "Boxing Gym"
Jim Helton and Ron Patane, "Blue Valentine"
Pamela Martin, "The Fighter"
Next tier: "Carlos," "Green Zone," "The Social Network," "Somewhere," "White Material"
Probably the technical category in which I had the most difficulty limiting myself to five. Mike Leigh's editors rarely get much credit for shaping narrative out of his famously unorthodox process, but Gregory's work is particularly remarkable: the implications of entire scenes shift on his decisions over when to cut. Helton and Patane deserve kudos for keeping "Blue Valentine"'s flashback-dependent structure fluid and consistently revealing, while Weisblum's "Black Swan" dazzles cinematically while slyly keeping multiple narrative options open. Two boxing films round out the category, but while Weisman is transfixed by the rhythms of physical activity, Martin is as preoccupied with verbal sparring.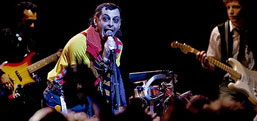 Best Makeup
"Black Swan"
"The Human Centipede: First Sequence"
"Sex & Drugs & Rock & Roll"
Next tier: "Barney's Version," "The Fighter," "The Temptation of St. Tony"
Full disclosure: I haven't seen a couple of the films shortlisted by the Academy's makeup branch. That said, I've found I don't always value the same things the voters do in this craft; final effect and performance-abetting ability is of more concern to me than technical wizardry. The technique on display in "The Human Centipede" is no doubt pretty rudimentary, but vividly realizes the premise, while Andy Serkis's tour-de-force performance as punk icon Ian Dury in "Sex & Drugs & Rock & Roll" wouldn't work without the makeup team's replication of Dury's wild onstage guises. The transformative work in "Black Swan," meanwhile, impresses on both a theatrical and technical level.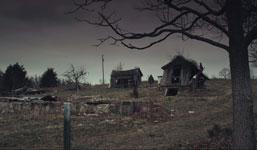 Best Original Score
Sylvain Chomet, "The Illusionist"
Trent Reznor and Atticus Ross, "The Social Network"
Daft Punk, "TRON: Legacy"
Tindersticks, "White Material"
Dickon Hinchliffe, "Winter's Bone"
Next tier: "The Ghost Writer," "How to Train Your Dragon," "Inception," "Monsters," "A Prophet"
To my ear, traditional film composers had to take a back seat this year, as a horde of immigrants from the world of popular music impressed most in this field. Dance masters Daft Punk surprised with the stunning orchestral breadth of their "TRON: Legacy" soundtrack, former Nine Inch Nails frontman Reznor collated both the most chaotic and most delicate ends of his repertoire, and British indie veteran Hinchliffe colored his trademark atmospherics with stabs of country. His former band Tindersticks was on more familiar, but no less haunting, form in their latest Claire Denis collaboration. Meanwhile, novice composer Chomet's musical naïveté couldn't have been more apt for his own fragile film. (Finally, outstanding interpolated work in "Shutter Island" and "I Am Love" made a strong case for the return of the Best Adapted Score category.)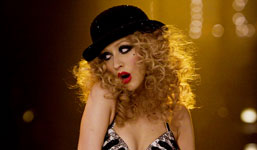 Best Original Song
"But I Am a Good Girl" from "Burlesque"
"Welcome to Burlesque" from "Burlesque"
"La Donna in Viola" from "For Colored Girls"
"Chanson Illusioniste" from "The Illusionist"
"Life During Wartime" from "Life During Wartime"
Next tier: "Mother Knows Best" from "Tangled" and, um… a bunch of other songs from "Burlesque."
Not exactly a vintage selection of contenders, but one I'd be more than happy to see staged at the Oscars. (That said, the "For Colored Girls" aria is exempt from recreating its accompanying rape scene through the medium of dance.) "Burlesque" offers a wealth of original song options, but while it's the film's power ballads that are predictably getting the awards buzz, its brassy cabaret pastiches trump them for both fun and songcraft. "The Illusionist"'s sweet, lilting theme is a less showboaty retro exercise, while Marc Shaiman's mordantly melancholy title composition for "Life During Wartime" effectively overcomes the distraction of its stolen Talking Heads title.
Best Sound Editing
"Black Swan"
"Frozen"
"The Good, the Bad, the Weird"
"Monsters"
"127 Hours"
Next tier: "Green Zone," "Inception," "Red Hill," "Shutter Island," "TRON: Legacy"
This craft was responsible for some of my most shivery involuntary reactions at the cinema this year, none more so than in "127 Hours": while the camerawork and editing curiously work overtime to distract us from the hard reality of that moment, the sound editing is so clean and crisp as to ensure that shielding your eyes doesn't help at all. "Frozen" achieved similarly claustrophobic results on a shoestring budget, while "Monsters" chalked up a more ambitious sonic showcase for the indies. I've already celebrated the clattering chaos of the sound work in "The Good, the Bad, the Weird"; "Black Swan"'s subtly integrated, feathery effects are markedly more restrained.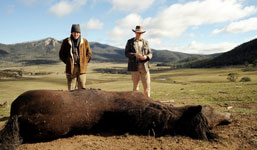 Best Sound Mixing
"Red Hill"
"The Temptation of St. Tony"
"TRON: Legacy"
"White Material"
"Winter's Bone"
Next tier: "Animal Kingdom," "Black Swan," "Enter the Void," "The Good, the Bad, the Weird," "The Social Network"
I confess I did a double-take when I read over my first draft of this ballot and discovered a 0-for-5 match-up between the two sound categories. Still, what better way to illustrate the fact that they are indeed two different disciplines? While less distinctive in the details, these five mixes proved utterly enveloping in the cinema: there's a world of difference between the state-of-the-art bombast of "TRON: Legacy" and the doomy fridge-buzz drone of Estonian arthouse pic "The Temptation of St. Tony," but they overwhelmed in oddly similar ways. Aussie thriller "Red Hill"'s stark, storming mix offers the biggest gut thrills here, while "White Material" and "Winter's Bone" take an equally effective slow-creep approach.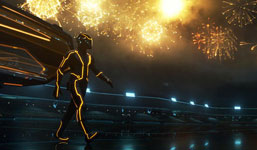 Best Visual Effects
"Enter the Void"
"Inception"
"Micmacs"
"Monsters"
"TRON: Legacy"
Next tier: "Black Swan," "Iron Man 2," "The Social Network," "Scott Pilgrim vs. the World," "Shutter Island"
By expanding this category to five nominees, the Academy opened up the possibility of nominating more resourceful work in lower-budget or less effects-driven films, but the shortlist they unveiled a few weeks back suggests we've yet to get there. A shame, since Gareth Edwards is as deserving of recognition for his financially constrained but vivid monster effects in his debut feature as many a generically realized blockbuster with money to burn. Two (!) French titles make up in narrative effectiveness what they lack in technical finesse. "Inception" offers the reverse of that equation, while "TRON: Legacy" overreaches on the Young Dude issue, but otherwise wows without reservation.
That it's for today, then. Check in tomorrow for my picks in the main categories. For those keeping score, "Black Swan" currently leads my list with five mentions, "TRON: Legacy" follows with four, while "The Illusionist" and "White Material" score three apiece. I have a feeling one of those films might fall behind tomorrow.
[Photos: Fox Searchlight Pictures, Sony Pictures Classics, IFC Films, Paramount Pictures, The Weinstein Company, Tribeca Films, Roadside Attractions, Screen Gems, Magnet Releasing, Strand Releasing, Walt Disney Pictures]