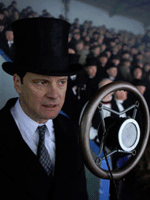 Tonight's PGA awards were the first stab at the preferential ballot for this year's Best Picture hopefuls.  The big winner in the feature film field was…oh my…"The King's Speech."
Considering this is a beefy organization (not quite as big as AMPAS but big) and its nominees are likely to match the Best Picture 10 pretty closely, I'd say this is one of the fairest indications of how things could play out in five weeks.  Last year, remember, the PGA went for "The Hurt Locker" rather than $2 billion grosser "Avatar." I think it will prove, more and more, to be a reliable indicator, as long as it shares this voting method and breadth of nominees with the Academy.
So does that apply this year?  Is there a major swinging of the pendulum under way?  Who knows.  And there is still the increasingly strong possibility of "The Fighter" taking the SAG ensemble prize.  Perhaps at the end of the day we'll have a phase two to remember.
Check out the full list of theatrical and honorary PGA award winners at The Circuit.
[Photo: The Weinstein Company]