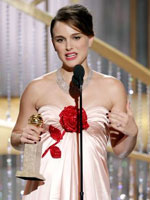 • The Golden Globes did their thing, with Ricky Gervais's antics drawing more attention than the sweep for "The Social Network."
• David Fincher's film continued its dominance at the Broadcast Film Critics' Association Awards, which Kris reported from first-hand.
• As if to remind us that there's more than one film in the race, this week's BAFTA nominations were ruled by "The King's Speech" and "Black Swan."
• Sadly, we bade farewell this week to regular columnist Chad, who left us with his idiosyncratic Best of 2010 list.
• Away from the awards beat, news of Anne Hathaway joining the cast of Christopher Nolan's Batman sequel got the internet talking.
• The Academy narrowed the contenders for the foreign-language Oscar down to nine films, with some pleasant surprises in the mix.
• Meanwhile, Kris took a closer look at the 15 documentary features left in the Oscar hunt.
• With that foreign-language list renewing his interest in the season, Guy's Long Shot column examined why we care as much as we do about the Oscars.
• Gerard closed out the pre-nomination stage of Tech Support with his two–part set of final predictions in each category.
• Speaking of technical categories, the Costume Designers' Guild and the Motion Picture Sound Editors wrapped up this year's Guild nominations, maintaining "Black Swan" and "Inception"'s unbroken streak through all of them.
• "The Green Hornet" topped the US box office, but was remarkably pipped to the post across the pond by "The King's Speech."
• Guy wrapped up his First-Half FYC column series with a selection of ten worthy Best Picture candidates released between January and June.
• We set up a new poll inviting your insight into that oh-so-scattered Best Supporting Actress race.
• In the wake of their semi-surprising victories at both the Globes and the BFCA Awards, we considered the achievement of "Social Network" composers Trent Reznor and Atticus Ross.
• As always, Kris and Anne's Oscar Talk podcast wrapped up a busy week, and looked ahead to Tuesday's crucial announcement.