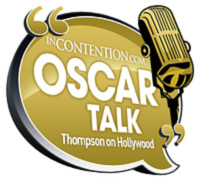 Welcome to Oscar Talk.
In case you're new to the site and/or the podcast, Oscar Talk is a weekly kudocast, your one-stop awards chat shop between yours truly and Anne Thompson of Thompson on Hollywood. The podcast is weekly, every Friday throughout the season, charting the ups and downs of contenders along the way. Plenty of things change en route to Oscar's stage and we're here to address it all as it unfolds.
We're moving into the last weekend before the Academy's big nominations reveal on Tuesday. Anne is calling from Sundance, where the festival is just gearing up, leaving me alone in LA to my devices. But there are a number of things to address in these final pre-nod hours, so let's see what's on the docket today…
• Leading things off, the Golden Globes and Critics' Choice Movie Awards happened last weekend. We discuss.
• Rather than move through each category with last-minute thoughts, we single out a handful of fields that have real meat on their bones and a couple that we haven't really addressed yet, Best Supporting Actress, Best Actress, Best Documentary Feature, Best Foreign Language Film and Best Animated Feature Film among them.
• This leads us into discussing a few upset picks, contenders not many are predicting that we think could easily surprise.
• Finally, reader questions. We address a quick mishmash of queries from yesterday.
Have a listen to the new podcast below. We go a bit longer than normal but there's a lot to cover a few days before nominations. If the file cuts off for you at any time, try the back-up download link at the bottom of this post. And as always, remember to subscribe to Oscar Talk via iTunes here.
(NOTE: With Anne in Sundance, we had ever-so-slight audio issues.)
[display_podcast]

Back-up download: Oscar Talk Episode 49