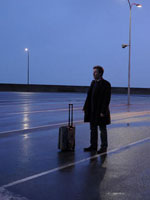 The film may be smarting from its widely (if not, ahem, entirely) unexpected omission from the Oscar foreign-language shortlist earlier this week, but Xavier Beauvois's sombre religious drama "Of Gods and Men" found more love in its home country, where it scooped a leading 11 nominations for the César Awards.
The so-called "French Oscars" also unsurprisingly took a shine to Roman Polanski's "The Ghost Writer," which has dominated the European awards circuit and is angling for a surprise Oscar nod or two on Tuesday. Expect these two films to battle it out for the gold; I'd bet on the weighty prestige veneer of Beauvois's film winning out, but sentimental loyalty to Polanski shouldn't be underestimated — he is, after all, a previous winner for both "Tess" and  "The Pianist."
Beyond those two frontrunners, I'm pleased to see a strong showing for Mathieu Amalric's scrappy burlesque comedy "On Tour," though their other choices suggest the Césars can be as frustratingly MOR as their US counterpart.
That trifles like "Heartbreaker" and "Mammuth" can pip "Carlos" (which at least secured a directing nod for Olivier Assayas) to a Best Film berth is bewildering. And quite what Claire Denis did to so offend César voters is a mystery: "White Material" is just the latest of her films to be shut out of the nominations entirely.
Meanwhile, "The Social Network" continues its indefatigable awards streak with a Best Foreign Film nomination, while France's hard-on for Clint Eastwood is getting almost comical by this point.
Check out the full list of nominees below.
Best Film
"Gainsbourg"
"The Ghost Writer"
"Heartbreaker"
"Mammuth"
"The Names of Love"
"Of Gods and Men"
"On Tour"

Best Director
Olivier Assayas, "Carlos"
Bertrand Blier, "The Clink of Ice"
Roman Polanski, "The Ghost Writer"
Mathieu Amalric, "On Tour"
Xavier Beauvois, "Of Gods and Men"
Best Actor
Gérard Depardieu, "Mammuth"
Romain Duris, "Heartbreaker"
Eric Elmosnino, "Gainsbourg"
Jacques Gamblin, "The Names of Love"
Lambert Wilson, "Of Gods and Men"
Best Actress
Isabelle Carré, "Les émotifs anonymes"
Catherine Deneuve, "Potiche"
Sara Forestier, "The Names of Love"
Charlotte Gainsbourg, "The Tree"
Kristin Scott Thomas, "Sarah's Key"
Best Supporting Actor
Niels Arestrup, "The Big Picture"
François Damiens, "Heartbreaker"
Gilles Lellouche, "Little White Lies"
Michael Lonsdale, "Of Gods and Men"
Olivier Rabourdin, "Of Gods and Men"
Best Supporting Actress
Anne Alvaro, "The Clink of Ice"
Valérie Bonneton, "Little White Lies"
Laetitia Casta, "Gainsbourg"
Julie Ferrier, "Heartbreaker"
Karin Viard, "Potiche"
Most Promising Actor
Arthur Dupont, "Bus Palladium"
Grégoire Leprince-Ringuet, "The Princess of Montpensier"
Pio Marmaï, "Living on Love Alone"
Raphaël Personnaz, "The Princess of Montpensier"
Edgar Ramirez, "Carlos"
Most Promising Actress
Leïla Bekhti, "Tout ce qui brille"
Anaïs Demoustier, "Living on Love Alone"
Audrey Lamy, "Tout ce qui brille"
Léa Seydoux, "Dear Prudence"
Yahima Torres, "Black Venus"
Best Original Screenplay
"The Clink of Ice"
"Mammuth"
"The Names of Love"
"Of Gods and Men"
"On Tour"
Best Adapted Screenplay
"The Big Picture"
"The Ghost Writer"
"Potiche"
"The Princess of Montpensier"
"The Tree"
Best Foreign Film
"Bright Star"
"Heartbeats"
"Illegal"
"Inception"
"Invictus"
"The Secret in Their Eyes"
"The Social Network"
Best First Film
"Gainsbourg"
"Heartbreaker"
"Lights Out"
"Tout ce qui brille"
"Turk's Head"
Best Animated Film
"Arthur 3: The War of the Two Worlds"
"The Illusionist"
"Logorama"
"The Man in the Blue Gordini"
"Une Vie de Chat"
Best Documentary
"Benda Bilili!"
"Cleveland vs. Wall Street"
"Into Our Own Hands"
"L'amour fou"
"Oceans"
Best Cinematography
"Gainsbourg"
"The Ghost Writer"
"Of Gods and Men"
"On Tour"
"The Princess of Montpensier"
Best Art Direction
"The Extraordinary Adventures of Adèle Blanc-Sec"
"Gainsbourg"
"The Ghost Writer"
"Of Gods and Men"
"The Princess of Montpensier"
Best Costume Design
"The Extraordinary Adventures of Adèle Blanc-Sec"
"Of Gods and Men"
"On Tour"
"Potiche"
"The Princess of Montpensier"
Best Editing
"Carlos"
"Gainsbourg"
"The Ghost Writer"
"Of Gods and Men"
"On Tour"
Best Original Score
"Bus Palladium"
"The Ghost Writer"
"Korkoro"
"Oceans"
"The Princess of Montpensier"
"The Tree"
Best Sound
"Gainsbourg"
"Oceans"
"On Tour"
"The Ghost Writer"
"Of Gods and Men"
Best Short Film
"Logorama"
"Monsieur l'abbé"
"Petit tailleur"
"Saint Louis Blues"
"Une pute et un poussin"
[Photo: Summit Entertainment]